Mark Ronson & The Business Intl's "The Bike Song" – Most Stylish Video of 2010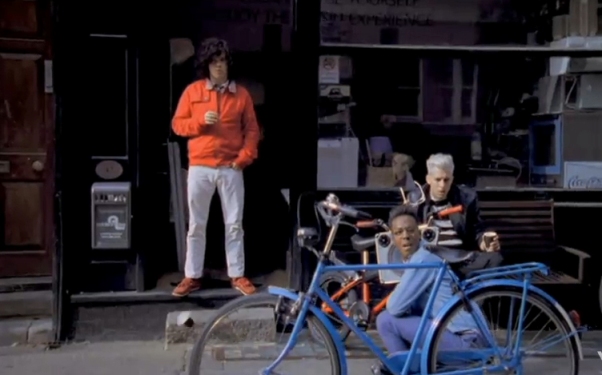 Posted by Brandon Kim on
London/New York's Mark Ronson's new gig is basically being the hippest bastard on the planet with his group Mark Ronson & The Business Intl. If you're the type to recoil at that, just look away now. Their latest video for "The Bike Song" off the upcoming release, "Record Collection" is a collision of all things cool — at least through the retro lens of a 30-something. The specs, the rhymes, the chicks, and of course the bikes.
The ridiculous Japanese/Tron/R2D2/Knight Rider transforming bicycle routine comes out of nowhere, and then Ronson is just rolling, hooking up with his jobless friends, jacking fools, and kicking it with hot French girls. You know how it is. The one in white with the socks is his real life girl, actress Joséphine de la Baume, who he was snogging constantly at the shoot in a park in south London [NOTW].
The other studs are Kyle Falconer (from Scottish band The View) and Spank Rock. Thirty-five year old Ronson was named the most stylish man in Britain last year by GQ, ahead of Guy Ritchie and Daniel Craig. Looks like he's got it in the bag again.
"Record Collection" comes out Sept 27th. Head here for more.