"Lost in Shadow" Plays Tricks with the Light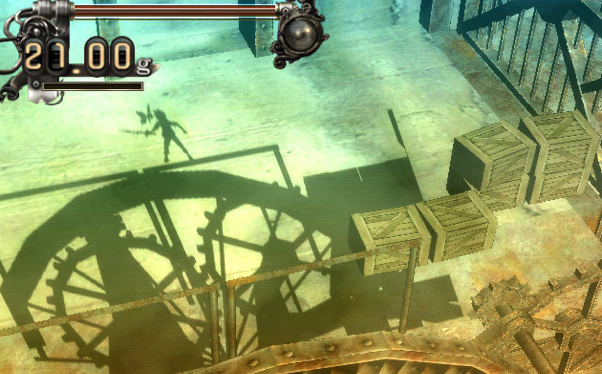 Posted by Evan Narcisse on
Video game characters didn't always cast shadows. Back when 8-bit graphics and 2D side-scrollers were the norm, anything approaching real-world lighting and perspective was technologically impossible. The advent of games set in virtual 3D worlds-like the watershed "Super Mario World"-started the realistic implementation of lightsources and shadows.
"Lost in Shadow" takes some cues from the 2D era of video games and wraps them up in an intriguing premise. The Wii-exclusive title by Hudson Entertainment chronicles the adventures of a boy whose shadow has been separated from his physical body. In a twist, players control the shadow–and not the real body–as it tries to find out the cause of the separation.
Boy #1, as he's called, must venture through a medieval fantasy landscape to reach the Tower of Shadows, where the mysterious power The gameplay is typical platformer stuff-running, jumping and sword-fighting-but it all happens in the background as if projected from a distance. It's quite a beautiful effect and makes things seem more fragile.
Certain levels will require you to find collectibles called Monitor Eyes to proceed. Along the way, you'll find fragments of Boy #1's memories. Picking them up increases his weight, which is how his health is measured. It's a nice metaphor for becoming more substantial. You can see the real versions of the spikes and platforms in the foreground and in some cases you can manipulate them. Boy #1 will be accompanied by Spangle, a sort of shadow fairy with whom lets you scan the environment by pressing the B button and scrubbing the screen. You can then point the Wii remote at hotspots to pull and turn parts of the architecture. As a result, new shadows get cast that let Boy #1 move around freely. Once you get to the Tower of Shadows, you'll ascend upwards through a s eris of floors. Some will have Shadow Corridors, which are hidden areas with platform puzzle challenges. You'll also be able to become solid again, too, through a feature called materialization. Passing through glowing gates on certain floors will imbue your body with light and let you move to the foreground, where you can move things around. But materialization is on a timer so you need to be quick about your lightform's business. Other floors will have lightbulbs on tracks that you can move, to grow, move or shrink shadows as needed.
Overall, "Lost in Shadow" creates an ethereal storybook vibe that's kind of like a negative image of Peter Pan. It also calls back to the look and feel of the PS2 classic Ico, with its "lost boy in a giant castle" framework and shadow motif. The lead designer supposedly got the idea from watching kids in a playground jump on each other shadows and it's got a nice combo of unique charm, clever ideas and moody tone that separate it from a lot of other games. "Lost in Shadow" hits the Wii in January 2011.