Joseph Gordon Leavitt Breaks Out in 'Manic'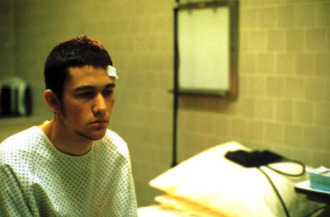 Posted by Melissa Locker on
While Joseph Gordon Leavitt and Zooey Deschanel are a familiar twosome after last summer's hit (500) Days of Summer, their first film together was back in 2001 in Manic. Manic was the first feature for filmmaker Jordan Melamed and he relied heavily on the Dogme 95 -style of shooting to craft a starkly harsh, but undeniably realistic story. The camera is handheld and shaky, lending the air of a pseudo-documentary that frees the film from any of Hollywood's usual gloss on mental patients or psychiatric facilities.
Filled with powerful performances by a then-little known cast, Manic is a hard-hitting drama centered on a group of misfit teens in a juvenile psychiatric detention center. Don Cheadle stars as their counselor hoping to make some sort of a breakthrough into the lives of the distraught, disregarded teens he sees in their therapy sessions. He runs headlong into a wall with Joseph Gordon Leavitt's Lyle, a reserved teen detained for beating a kid with a baseball bat. The only thing that really moves Lyle is Zooey Deschanel's emotional destroyed Tracy and a plan for escape hatched by Chad (Michael Bacall). Cheadle does an incredible job showing the frustrating work of trying to save the lives of ungrateful unmoved teens.
There is no happy ending for the cast of characters in Manic. The movie is far from optimistic, but offers an unrelenting and insightful story of frustrations, violence, and self discovery. While the future may be uncertain for the characters they portrayed, the young stars and Don Cheadle earned their bright futures with their performances in this film.
Watch the trailer here and tune in to IFC for the full movie:
Manic airs on IFC at 2:45 p.m. ET