Insert Credit: "Batman: the Brave and the Bold"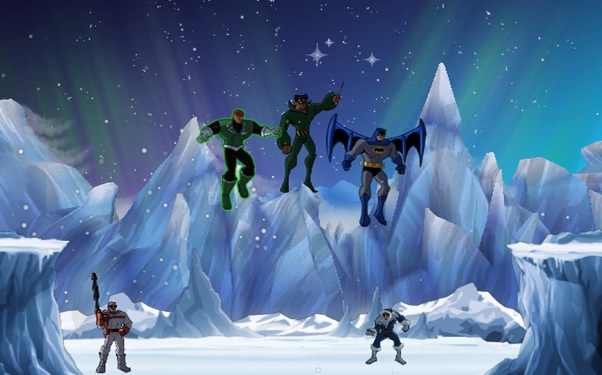 Posted by Evan Narcisse on
The great thing about Batman as a comic-book character is that he's able to be interpreted in so many varied different ways. Bruce Wayne's masked alter ego has been written and drawn as a grim creature-of-the-night in his original incarnation, a would-be Boy Scout troop leader in the 1950s, the Campy Crusader of the Adam West TV show to the gritty vigilante of the 1980s. He's gone back and forth from all those tropes over the decades in other forms of entertainment, but he's been pretty grim in video games. The apotheosis of that grimness came in last year's "Batman: Arkham Asylum," which was a great game but not one you could hand to very young Bat-fans.
So it's great that "Batman: The Brave and the Bold" mines the gentler interpretation of the Caped Crusader. It does a great job of channeling the sardonic tone of the Cartoon Network show it's based on, which pairs Batman up with other characters from the DC Comics superhero universe. The Wii version of BBB also pairs up with its DS counterpart to let handheld players control the Bat-Mite character in a play-along mode.
Kid-friendly games can be deadly dull, but BBB plays as a fun romp with well-delineated characters. The game serves as a great introduction to tons of comics characters, making it a great way for geeky parents to bond with their little nerds-in-training.
"Batman: the Brave and the Bold" is out now for Wii and DS.