Toronto 2010: "In a Better World," "Three," Reviewed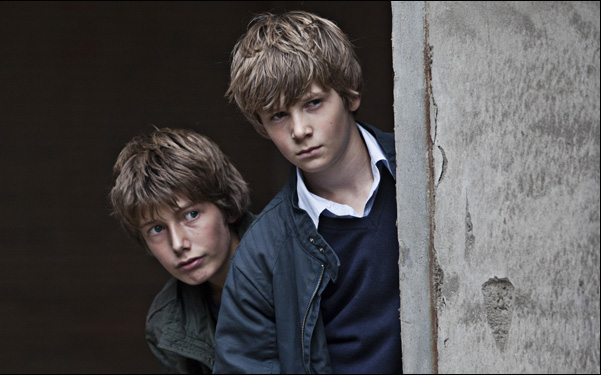 Posted by Stephen Saito on
When an audience member wondered aloud at the Toronto Film Festival why Susanne Bier decided to change the English title of her latest film "In a Better World" from its original Danish translation "The Revenge," the director of "After the Wedding" and "Brothers" told the crowd that she was concerned it would be perceived as a horror film. In a way, "In a Better World" actually fits that bill nicely, not as part of that particular genre, but instead as a well-told parable about on the futile perpetuation of violence.
To date, the only explosions in Bier's work have occurred figuratively, the product of slow-simmering spats between lovers or people at an emotional crossroads of one kind or another that come to a head. Here, they become literal in the story of Elias (Markus Rygaard) and Christian (William Johnk Nielsen), a pair of middle school classmates who seek out retribution after witnessing Elias' father Anton (Mikael Persbrandt) get slapped by a local mechanic after trying to separate his son from a potential fight. For Anton, it's an action not worth responding to, especially since he's seen far worse things in Kenya at the hands of local warlords where he provides medical support as a doctor.
Since Anton spends most of his time in Kenya, it's a rare opportunity to set an example for his son and his friend. Yet Christian, the new kid on the block who becomes Elias' friend after protecting him from the school's bully, doesn't see things the same way. Both children are outcasts at school and the sons of distant fathers, though only Christian resorts to his fists (or more appropriately a bicycle pump) as taunts and threats turn into random physical aggression against them both. When Christian's father Claus (Ulrich Thomsen) insists that hitting someone isn't the best way to respond to getting hit, Christian fires back, "Not if you hit hard enough."
The wonderful thing about that exchange is the bitter humor that comes out of the gap between reality and principle, something "In a Better World" explores to its fullest. As a director, Bier presents the villains of the film in no uncertain terms: Sofus, the blonde bully who tortures Elias with catcalls of "ratface," clearly deserves some comeuppence, as does the racist oaf of a mechanic who incites Anton.
However, whatever lack of sophistication exists for the aggressors in the film is reserved for the conversation that Bier and co-writer Anders Thomas Jensen would like to inspire about violence begetting violence and where the line should be drawn. "In a Better World" is compelling because Bier once again proves her precision as a keen observer of human relationships, but for many filmmakers, greater scope doesn't always portend a greater impact – Bier may not believe in hitting back, but she's a big believer in hitting hard.
Like Bier, Tom Tykwer has also headed back to his home country after an English-language vacation of "Perfume" and "The International" and I'd be surprised if I ever see the uncut version of his latest, "Drei (Three)," arrive in the U.S. intact. This isn't for quality reasons – the film is a welcome return to Tykwer's unusually structured thrillers from the turn of the century, but given its share of explicit sex scenes (involving both sexes) shown matter-of-factly, it would take a brave distributor to take a chance on "Drei,"
If someone does, they'll get a stylish drama with a wicked sense of humor on the order of Atom Egoyan's "Chloe," pulsating with the kind of visual panache and subversion that only a first class director can deliver, even though it tells a rather contrived and slightly sleazy story. Your appreciation of "Drei" will somewhat rely on how much you accept the coincidence involved in the story of Simon (Sebastian Schipper) and Hanna (Sophie Rois), a longtime couple who unbeknownst to each other find themselves having an affair with the same man, Adam (David Striesow), the head of a stem cell research center that Anna has become intrigued by, in her job as a TV news anchor, and is a member of the same swimming club as Simon.
As I've found with my favorite Tykwer films besides his breakthrough "Run Lola Run," it takes nearly an hour into "Drei" to get its bearings and a little longer for the endgame to begin to expose itself, as the director is all over the place in setting up the circumstances that have led to the dual affair – Simon is diagnosed with testicular cancer, Hanna is fantasizing about other men, and their relationship has fallen into a predictable and all-too relaxed stasis that arrives with middle age restlessness.
Meanwhile, Adam doesn't receive nearly as much attention from Tykwer, but he's largely a cipher for the film's larger point about not fitting into the accepted societal order of things and while his occupation involving genetics leads to a overarching motif that seems a bit silly, Tykwer is too busy dazzling your eye and appealing to primal instinct of a story well told for it to matter. With "Drei," Tykwer asks audiences to think differently, but why the film works is because at its core, it's pitching an old idea in a completely new way.
"In a Better World" will be distributed by Sony Pictures Classics early next year; "Drei (Three)" currently does not have U.S. distribution.