Laying Out Some "I'm Still Here"-y Theories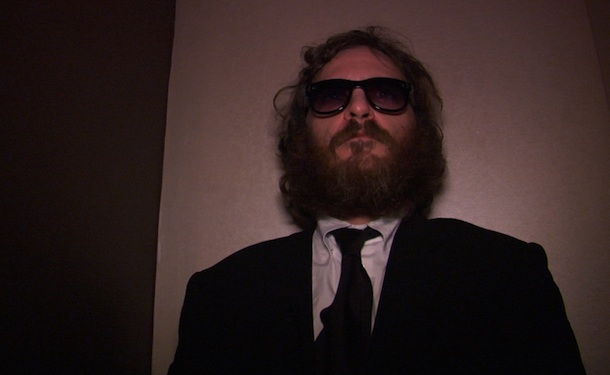 Posted by Matt Singer on
Roger Ebert calls it "a sad and painful documentary." Reuters calls it "an entertaining hoax." So which is it? "I'm Still Here," Casey Affleck's film about a messy year in the life of his brother-in-law, actor-turned-laughing-stock-rapper Joaquin Phoenix, doesn't open in theaters until Friday but as those early reviews indicate, the jury's still out on the full extent of its truthiness. For his part, Affleck continues to maintain that the film is 100% real. "I can tell you, there's no hoax. It never entered my mind until other people commented on the movie." Affleck told the press at the Venice Film Festival.

Affleck's not being coy. He's coming right out and saying: my film is real. But do we believe him? Like everything in "I'm Still Here," Affleck's comment could be a put-on. It certainly sounds disingenuous, since at one point in the film Affleck himself interviews an editor from Entertainment Weekly who reported on the possibility that this whole thing is an elaborate prank. I've seen the film myself — I'll have a full review on IFC.com on Friday — and I'm still not sure where I fall on the fact/fiction debate. There seems to be evidence to back up either theory, and plenty to suggest the truth may lie somewhere in between. Let's look at each possibility along with the evidence supporting and disputing it.
POSSIBILITY #1: The movie is an authentic documentary.
WHAT THIS MEANS: Everything seen in the movie actually happened; Joaquin Phoenix had a legitimate meltdown in 2008 and 2009; he thinks his terrible hip hop music is actually good; his own brother-in-law chose to document his cry for help instead of trying to get him into rehab or therapy.
EVIDENCE FOR: Phoenix's public behavior during the time chronicled in the film including his strange appearance on "The Late Show With David Letterman"; his history of substance abuse; Phoenix's complete absence from the film world since "retiring" in late 2008; scenes, like the one in which Phoenix walks off stage from a rap concert and repeatedly pukes in a toilet, that look disturbingly real.
EVIDENCE AGAINST: Repeated leaks in the press stating that the film was staged (like the one in Entertainment Weekly that Affleck confronts himself); the fact that Magnolia Pictures, the company that distributed the film Phoenix was (kind of) promoting during his shenanigans, signed on to distribute this film; the strong unlikelihood that Phoenix could learn to play guitar and mimic the distinctive singing voice and performance style of Johnny Cash perfectly and yet be completely incapable of approximating a legitimate hip hop record in any way at all; scenes, like the one in which Phoenix rages at the world for ignoring his performance in "Reservation Road" while praising Leonardo DiCaprio's in "Revolutionary Road," that look blatantly staged.
POSSIBILITY #2: The movie is a complete work of fiction.
WHAT THIS MEANS: Everyone who appears in the film is appearing "in character" and either speaking lines of dialogue or improvising scenarios written by Phoenix and Affleck, necessitating an industry-wide conspiracy involving major stars from the world of music, film, and television, all working together to produce a record-setting prank on the general public; that the Joaquin Phoenix who appears in "I'm Still Here" is actually one of the greatest acting performances in the history of cinema.
EVIDENCE FOR: End credits that call Phoenix and Affleck the writers of the film and that name several actors in the cast, like Antony Langon of the band Spacehog, who appears in the film as Phoenix's assistant; a convenient storyline that justifies many of Phoenix's most infamous public blunders by connecting them to heretofore unseen traumas in his personal life; the presence of so many real Hollywood celebrities whom may not have agreed to sign releases if the film was a real documentary.
EVIDENCE AGAINST: The extreme difficulty of maintaining the secrecy such a mammoth project demands; Affleck's repeated assertions in the press that the film is genuine (to say it is fake is, to some degree, call Affleck a liar); apparently unsimulated scenes of drinking and smoking and snorting plus moments where Phoenix looks too genuinely zonked out of his gourd on drugs to be acting; graphic and also apparently unsimulated depictions of human biological functions that have previously only appeared in on movie screens John Waters movies, "Jackass," and scatological porn.
POSSIBILITY #3: It's "Borat."
WHAT THIS MEANS: Affleck and Phoenix (and perhaps a select number of supporting "characters") know the film is a put-on but everyone else, including celebrities appearing as themselves like Ben Stiller, P. Diddy, and Edward James Olmos, believe they are appearing in a straightforward documentary; Phoenix completely screwed over a director he'd worked with three times for the sake of this strange exercise; both Phoenix and Affleck are liars on a near-pathological scale.
EVIDENCE FOR: The way the film not only resembles the structure of "Borat" but also its content (a storyline about a socially inept weirdo pestering confused celebrities; people showing off their comically shabby houses; the confrontational use of human excrement; the presence of "real" prostitutes; men wrestling in the nude); the sheer logistics of keeping a secret between a couple people versus dozens or hundreds.
EVIDENCE AGAINST: A decidedly un-"Borat"-like ending; the fact that Phoenix isn't known for his comic chops and hasn't even made a comedy in almost a decade; the sheer odds of Affleck, who has little to no experience in improvisational and confrontational hoax comedy, managing to pull off one of the greatest feats in the history of improvisational and confrontational hoax comedy in his feature directorial debut.
POSSIBILITY #4: It started as "Borat," but at some point in the process became real.
WHAT THIS MEANS: Phoenix and Affleck thought it'd be a kick to mess with people by feigning a retirement and breakdown but didn't anticipate the degree to which people would believe it or the legitimate toll it would have on Phoenix's career; early scenes of Phoenix's gleefully quitting to pursue his hip hop dreams are fake; later scenes of Phoenix's finally coming to grips with the reality of his decision are not.
EVIDENCE FOR: The film's strong shift away from celebrity excess to a more somber and introspective tone in its second half; the craziness of Phoenix's behavior contrasted with the media's willingness to believe it; Phoenix's reaction to acting so strangely on the Letterman show; otherwise unfounded but deeply held suspicion on my part.
EVIDENCE AGAINST: The fact that this theory requires us to believe Phoenix and Affleck are smart enough to pull off something of this scale but dumb enough not to consider its ramifications; Phoenix's total refusal to break character under any circumstances.
POSSIBILITY #5: Phoenix had a real meltdown, then invented the movie to cover his tracks.
WHAT THIS MEANS: Phoenix did a ton of drugs, lost his mind, tried to become the next Jay-Z, failed, and hit rock bottom. When he finally cleaned up, saw some of the footage and how he was being portrayed in the media, he sensed an opportunity.
EVIDENCE FOR: my sincere hope that Phoenix wasn't faking this bad behavior at the expense of "Two Lovers" coupled with my sincere hope that Affleck wouldn't stand by and watch his brother-in-law do these horrible things to himself.
EVIDENCE AGAINST: Phoenix, brilliant actor as he is, doesn't seem career-minded (or sober) enough to do something so calculatingly; every instinct in my body.