Hear Ye! Hear Ye! Get Your Whitest Kids U'Know Fix Here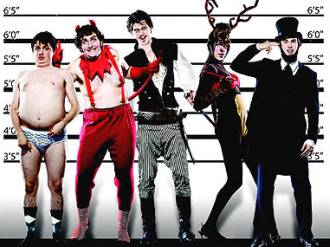 Posted by Melissa Locker on
Just a few weeks ago we bid a fond farewell, sang so long, farewell, auf wiedersehn, and adieu to the stylish (and sometimes dirty) comedic stylings of The Whitest Kids U'Know. It was sad, but we let them go.
We thought we were doing fine on our pre-paid Kubler-Ross plan. We had grieved, denied, bargained, and even gotten angry. We were almost at acceptance when we realized something. We didn't need to accept anything! We didn't need to say goodbye to our belovedly wacky gents, we didn't even need a seance, we just needed to get IFC to run a mini marathon. So today from 5:45 p.m. ET through 8:45 p.m. ET we are reliving the good old days and reviving our love of The Whitest Kids U'Know.
Set your DVR, adjust your plans accordingly, and re-schedule the seance because we got your sketch comedy fix right here.
To keep you from jonesing too much before the mini-marathon starts at 5:45 p.m. Here are a few of our favorite clips: