HBO Brings Fantasy to Adults With "Game of Thrones"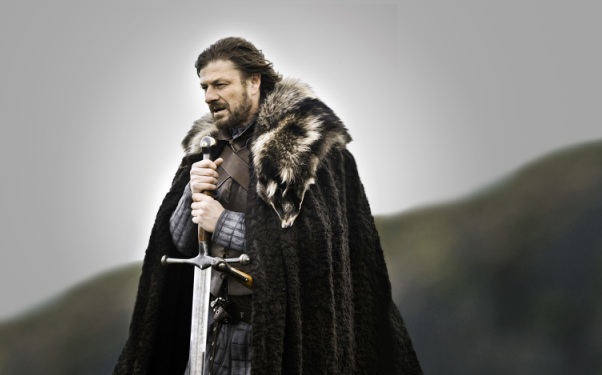 Posted by Brandon Kim on
If you watched the "True Blood" season finale you may have caught the cryptic teaser, prominently featuring a raven, for HBO's upcoming series "Game of Thrones." I didn't find it to be particularly impressive, but the show itself looks like it will be the next completely out of control fan-berserk series taking it's place next to the likes of "True Blood" and "Deadwood" before it.
The casting so far is almost impeccable. I know this because, aside from being addicted to IMDB, I've read two of the books in George R.R. Martin's colossal fantasy novel series on which the show is based. Sean Bean is everyone's first choice for Ned Stark. You couldn't dream of a better Tyrion Lannister than Peter Dinklage. Jason Momoa may suck as "Conan" but he'll be the perfect Khal Drogo. There are four books already, with seven planned, and "Game of Thrones" covers only the first book. So, if this first effort is a success, we could be in for quite a few seasons.
Best of all, this isn't your daughter's fantasy series, this is grimy adult fare with tons of sex, grim family intrigues, terrible violence and more sex. HBO already backed off a little bit from the more risque aspects of the novel, casting some actors and actresses much older than they are in the book. The FCC would probably have taken issue with the deflowering of so many maidens. Indeed, George R.R. Martin is no J. K. Rowling, and as successful as "Harry Potter" is there seems to be a growing hunger for more adult oriented fantasy works. Just take a look at "The Pillars of the Earth" or "True Blood." Certainly Potter fans have aged, and now years on from the "Lord of the Rings" trilogy more people are interested in fantasy then ever thanks in part to these two franchises giving the genre some respectability (to say nothing of contributions by geniuses like Guillermo del Toro). And then there are those, not normally inclined to watch a fantasy show, who may be drawn in simply by the fact that it's airing on HBO, and have come to expect a high level of quality entertainment from the channel.
I'm encouraged too not just by the content of the original works and casting, but by the series creators, David Benioff and D.B. Weiss. These guys are well schooled in their fiction, and dedicated to bringing it to the screen properly — one reason why this one book is stretched across an entire season (though that still may barely be enough time). These guys didn't just read "The Lord of the Rings," they read "The Silmarillion." They played Dungeons and Dragons for Tolkien's sake, noting on their production blog, "As Dungeon Masters, we both ran very strict games. (Sorry, buddy. No 'do overs.' A saving throw is a saving throw.) Little did we know that someday we would encounter the most merciless Dungeon Master of them all…[George R.R. Martin]."
Benioff and Weiss speak clearly to their purpose and to the real appeal of "Game of Thrones." "It's not a bloodless, sexless, PG-13 tale of the eternal conflict between Good and Evil. No, ser. This tale is bloody, it's sexy, and few of the characters can be neatly labeled…. This stuff isn't for kids, and the story won't fit neatly into a two-minute trailer."
Check out this production featurette showing some behind the scenes action with a bit of commentary by all the major players.