Grinderman's "Grinderman 2," Reviewed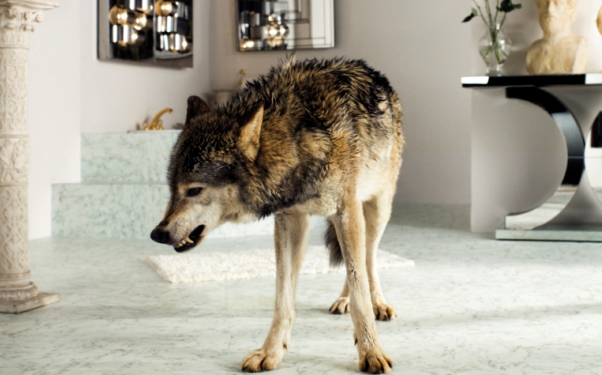 Posted by Brandon Kim on
Nick Cave and crew's "Grinderman 2" is a filthy, loathsome, blown-out excuse of an album. And I highly recommend it. I say excuse because it's abusively clear that Cave is using this Bad Seeds side project-turned-real deal to muse about his favorite things, "Chicks. Death. Love," and just sound tremendously tough while doing it.
And Grinderman 2 is tough, make no mistake, like guitars strung with hair from Warren Ellis' beard, tough. But these are love songs nonetheless — for rogue men, hungry wolf men that dream broken dreams. "You are the moon! Who needs the moon? / You are the stars! Who needs the stars? / O cling to me little baby in this broken dream," Cave howls on "Evil."
Musically, you have to go back to say, 1968 and the primitive psychedelic blues-rock of bands like Blue Cheer to find the roots of this malevolence. The band strives for a raw sound but it doesn't feel calculated or false. Historically Cave is a pianist, not a guitarist which makes things more interesting, more stripped down by default. Add to that the wild methods of his band mates — they can't even recall how they made some of these sounds. This shit is legitimately out of control.
I dig Grinderman for their sound, for drummer Jim Sclavunos, bassist Martyn Casey, and the multi-talented Warren Ellis grooving together with guitar novice, Nick Cave. But it's Cave's profane mind that really lights this album up. "And I'm gonna get a pot to cook you in / I stick my fingers in your biscuit jar / And crush all your Gingerbread Men," he sings on the hot mess "Kitchenette." Each song seems more lewd and threatening than the next.
Mostly, "Grinderman 2" is the sound of four manics, heading into their 50's, who've never been more dangerous or temperamental …or hilarious as Cave groans on "Worm Tamer" about a love he's had too long, "Well my baby calls me the Loch Ness Monster / Two great big humps and then I'm gone."