Five Fiscally Minded Flicks About Our Road to Economic Ruin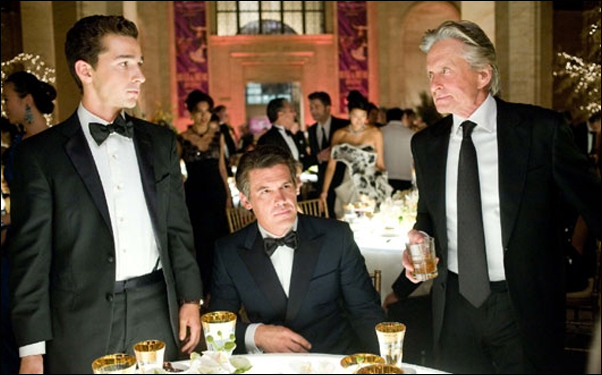 Posted by Anthony Kaufman on
With the election season upon us, and economic tussles in Washington reaching fever pitch, an onslaught of movies addressing America's #1 political issue are about to hit theaters. Between now and voting day, at least five movies, both documentary and fiction, take up the subject of the global economic collapse, examining its roots, causes and effects. Even Woody Allen's latest trifle "You Will Meet a Tall Dark Stranger" shows his usual white-bread bourgie characters struggling with financial difficulties. Can anyone be safe from the evils of Bernie Madoff? Judging from the following collection of movies, the answer is no. What else do we have to learn from these cinematic renditions of fiscal apocalypse? Below, find a rundown of each film's economic perspectives and their own equivalent S&P-style credit rating.
"Wall Street 2: Money Never Sleeps" (Sept 24)
It seemed like a good idea. With the 2008 financial meltdown the ultimate answer to the go-go '80s that produced Oliver Stone's original "Wall Street," why not return to the scene of the crime with a contemporary spin on the story of ambition and greed within the belly of the beast? Shia LaBeouf plays the young hotshot motorcycle-riding trader with dreams of immense fortune; Carey Mulligan is his soon-to-be-fiancé who happens to be a liberal HuffPo-like blogger, the film's moral compass, and oh-so-coincidentally, the daughter of Gordon Gekko; Michael Douglas reprises his role as the iconic sleazebag. If Stone had stuck to what he knows best — masculine rivalries, subprime mortgages and credit default swaps (Stone's dad was an old-time broker) — "Money Never Sleeps" could have been the definitive narrative telling of the hubris and irresponsibility that led to our current monetary morass. But whether pressured by his board of investors or given into this own melodramatic impulses, Stone anchors the film with a trite dramatic triangle between the three central characters that's about as convincing as Enron's books.
Credit rating: BBB-
"Freakonomics" (October 1)
Based on Stephen Dubner and Steven Levitt's bestselling book, this omnibus nonfiction movie doesn't exactly address our economic woes, but one segment, "Pure Corruption," directed by Alex Gibney ("Enron: The Smartest Guys in the Room") stands out for its shoutouts to Wall Street bogeymen, including A.I.G.'s Hank Greenberg, Lehman Bros' Richard Fuld and Madoff. Gibney's segment also happens to the best of the bunch, as it draws fascinating links between the entrenched corruption that takes place in sumo wrestling, the Japanese police force, and yes, Wall Street. Ostensibly about the hidden world of "yaocho," or match fixing in the sumo sport, Gibney paints a broader picture of the way in which the gloss of purity — whether in the Shinto religion of sumo or the aristocracy of white-collar culture — allows fraud to flourish. It's a bit of a leap, but in Gibney's paranoid, connective universe, it becomes clear that anyone at the top of their game is ironically prone to cheat in some way to stay there.
Credit rating: AA-
"Inside Job" (October 8)
From Charles Ferguson, the think-tank veteran and director of the essential Iraq war investigation "No End in Sight," comes this equally comprehensive and illuminating examination of the economic crash. Featuring interviews with insiders like Bush economic advisor Glenn Hubbard and Paul Volcker, the Federal Reserve Chairman under Presidents Carter and Reagan, Ferguson argues that economic deregulation has given rise to a criminal and immoral industry. Not only does "Inside Job" adequately explain the conspiratorial linkages between the mortgage meltdown, collateralized debt obligations (CDOS), investment banks and credit rating agencies that led to the collapse, but he also follows the money to see the culpability of government watchdogs and academicians, who failed to call out their colleagues for wrongdoing. In the age of bloggage, infotainment, sound bytes and spin, "Inside Job" is that rare penetrating journalistic account that lays bare the vast tragedy of our economic ruin.
Credit rating: AAA
"I Want Your Money" (October 15)
Ray Griggs's brazenly anti-Obama doc "I Want Your Money" borrows from the Michael Moore book of filmmaking, offering a right-wing Tea Party version of reality to address the country's fiscal troubles and unwieldy deficit. With ample archived clips of "trickle-down" hero Ronald Reagan ("government is not the solution to our problems") and a list of interviewees culled from guest appearances on Glenn Beck (Newt Gingrich, Ken Blackwell, Michael Reagan, Andrew Breitbart), the film plays right into conservative ideological thinking about the evils of government, taxes and, that dirtiest of dirty words, "socialism." This kind of film has a name, and it's called Fox News propaganda.
Credit rating: Junk
"The Company Men" (October 22)
"The Company Men" makes last year's downsizing drama "Up in the Air" look like the shallow feel-good film that it is. Director John Wells (of TV's "ER" and "The West Wing" fame) brings his earnest approach to the daily struggles of the corporate elite during recessionary times as viewed through three men's lives: Cocky, newly-fired Bobby Walker (Ben Affleck) gets his comeuppance and learns the importance of family over career (with the help of Rosemary DeWitt as his caring wife and Kevin Costner as his hardened brother-in-law in solid supporting performances); veteran employee Phil Woodward (Chris Cooper) finds his wizened experience a liability rather than an asset; and corporate mucky-muck Gene McClary (Tommy Lee Jones) tries to save his fellow comrades from the cruelties of the bottom line. With plenty of furrowed brows and seen isolated in frigid, empty corporate spaces, the cast of stalwart actors vividly express what it's like to be cogs within the unforgiving world of capitalism. And if there's nowhere for them to go, there's always the TV pilot.
Credit rating: BBB+
[Additional Photos: "Freakonomics," Magnolia Pictures, 2010; "Inside Job," Sony Pictures Classics, 2010; "I Want Your Money," Freestyle Releasing, 2010; "The Company Men," Weinstein Company, 2010]