Mark Hartley Unleashes "Machete Maidens"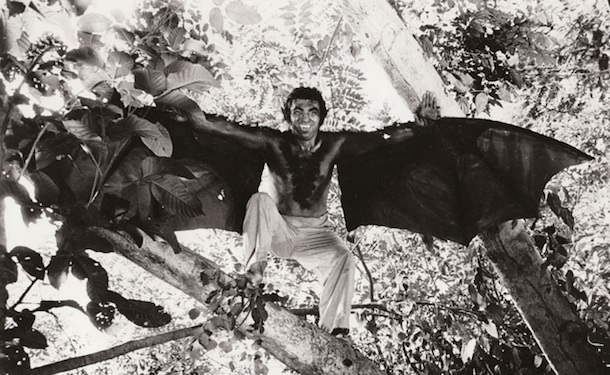 Posted by Matt Singer on
"I had no interest in doing another documentary after 'Not Quite Hollywood,'" says Australian director Mark Hartley. It's kind of a weird statement, since I'm talking to Hartley specifically because he made another documentary, a thoroughly entertaining chronicle of American exploitation filmmaking in the Philippines called "Machete Maidens Unleashed" ("Not Quite Hollywood" focused on exploitation films from Hartley's homeland). Packed with great interviews and movie clips, edited with panache and wit, and featuring some incredible anecdotes about Roger Corman's B-movie factory of the 1970s, New World Pictures, "Machete Maidens" certainly doesn't feel like the work of a disinterested filmmaker. So how'd we get here, chatting about his film the day after a gala screening at Fantastic Fest? I asked Hartley what changed his mind, whether he thinks there are feminist messages in Women in Prison movies, and the morality of enjoying stuntwork that could have cost someone their life.
What was the origin of the project?
The origin of the project was long before I became involved. It started out with another film which is credited on the end of "Machete Maidens" called "The Search for Weng Weng." It was an idea by a guy from Queensland named Andrew Leavold who is obsessed with Weng Weng [a three foot tall dwarf Filipino action star of the 1970s]. He went over to the Philippines and shot a lot of interviews with people in his search for Weng Weng. And when he got back they discovered that due to the nature of the conditions under which they were shot, none of the interviews were usable.
So I got called in by the Australian Broadcasting Commission, who had initiated the project. I thought I should at least research the subject because I was flying to Brisbane to have a meeting with them. If I'm going to say no, I should be at least have some knowledge of the topic so I could say I was informed when I declined. But when I was doing the research, I realized it was a much more interesting story there.
The other thing is, after "Not Quite Hollywood," Jamie Blanks, who was one of the editors of "Not Quite Hollywood" and did the score of "Machete Maidens" and who most people know as the director of "Urban Legend," said to me, "You could make any documentary you want now. What would you like to do?" And I said, "Well, if I was going to make another documentary it would only be to meet my childhood film heroes, and the only way I could think to do that was to make a documentary on Roger Corman and the proteges of Corman. But we looked online and found that there was already a documentary being made about Corman. So we thought that was it.
But then months later when I did this research about Weng Weng, I realized this is the early period of New World Pictures. This is Corman going to the Philippines, Jack Hill, Joe Dante and Allan Arkush back in the cutting room selling these films, Jon Davison promoting them, all these guys I really loved. And I thought, "Maybe I can convince these people somehow that there's a better story here."
The representation of women in those Corman movies is interesting. Some of the people you interview think movies like "The Big Bird Cage" or "Black Mama, White Mama" are about female empowerment. And others completely disagree and say they were simply exploiting the actresses. Who do you side with?
I don't think anyone's right or wrong. And I certainly don't think that I, as the filmmaker who's documenting these other people's stories, should tell people what's right and what's wrong. But it certainly makes for good drama if you've got different opinions.
I think the actresses really did think they were making liberating films over there. At that time, there were no roles for women. They had to go to the Philippines to get leading roles. These were films where they had their names above the title. That didn't happen in Hollywood.
The stunts in these movies are just insane. And while that does make them more fun to watch, in the back of my mind, I'm always aware of the fact that if something looks dangerous, it probably was. People literally died for these movies.
It's interesting. We have a section about stunts later in the film. Obviously we didn't want to say at the front, "And they died." You need to have people go "Whoa, that's insane," and then realize that it was insane for a very good reason: people were risking their lives and getting killed.
In a way, it does sort of make our film a bit of a downer from that point on. After that we've got "Apocalypse Now" and then you've got Weng Weng. By the time you get to Weng Weng, which should be the most insane, hilarious moment in the film, people aren't enjoying it that much because they realize that there are some pretty heavy consequences. This stuff really is exploitation.
It was the same in "Not Quite Hollywood." The stunts in the Australian films were insane too. People were doing it because there were no rules. And it's the same in the Philippines. I think the Australian directors look like choir boys compared to what was going on there.
Corman himself is such an interesting figure. He's so eloquent and classy in interviews, but his movies are so tawdry.
I have to say from the outset that Roger was incredibly generous. This is a documentary that he's got nothing to do with. He doesn't make a cent from it. And ultimately it's capitalizing on the films he made over there. So it was just amazing that he said yes to an interview. It did take a lot of persuading, a lot of me getting up at 2 o'clock in the morning in Australia and constantly phoning New Horizons. And in the end I think they just felt sorry for me cause I kept setting the alarm clock every hour to get up and give him another call.

That period at New World really intrigues me because everyone talks about it being very magical. I worked for someone very much like Roger who paid me no money and exploited me. And I would never go out of my way to say anything nice about that guy. But no one has a bad word about Roger. So obviously there was something very special about that time at New World. They all believed they were getting the break that no one else would give them. When Dante and Arkush make films now they have to answer to forty people. With Roger it was one person. They knew if they gave Roger what he wanted they could do whatever they wanted. And I think they had a creative freedom that they haven't had since.

What's the legacy of these films?
I really can't talk about the legacy of these films. But hopefully the legacy of documenting these films is going to be the people who are inspired to know that against the odds, anyone can make a film. You don't need big budgets. You just need a gung ho attitude, some luck and a willingness to do something that is different than all the other stuff out there.
OK, last question. There's a whole section of your doc about this trio of films known as "The Blood Island Series." Why on earth would anyone live in a place called "Blood Island?
[laughs] Well they don't live there! They just go and visit.
Then why go and visit a place called "Blood Island?" To me, that's a place I don't want to go.
Yeah, I don't think it's actually called "Blood Island." It's just a nickname. Those are pretty interesting films.