"Fire of Conscience," Reviewed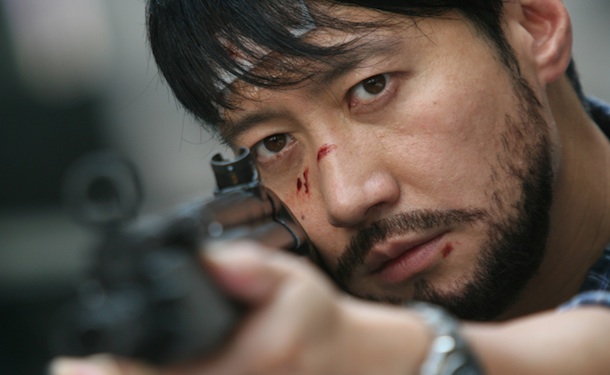 Posted by Matt Singer on
Reviewed at Fantastic Fest 2010.
What's the worst job in the world? Garbage man? Human test subject? Porno theater janitor? According to movies, the worst job in the world is a Hong Kong police officer. Oh sure, you get to do cool things like fire two guns at once while sliding down bannisters or walking in slo-mo through a flock of doves. But the price paid for such badass pleasures is a steep one: all your loved ones have to die in awful ways, you have to work around the clock, treat everyone around you like an asshole, and grow bad facial hair as an outward manifestation of your tortured soul.
Consider the Hong Kong cops in Dante Lam's "Fire of Conscience." Some are good, some are bad, but all of them are miserable. Captain Manfred (Leon Lai) is grappling with the death of his wife (and, just for good measure, the death of the unborn child his wife was carrying). His right hand man Cheung-on's (Kai Chi Liu) wife left him, and now he has to raise their daughter alone. And Inspector Kee (Richie Ren), who is too committed to his job to commit to his fiancé, hides dark secrets behind his well-tailored suits. Manfred and Kee meet when their two individual cases intersect, and throws their lives into chaos; emotionally devastating but oh-so-stylish chaos.
"Fire of Conscience" is typical of a certain kind of HK melodrama: characters brood to the sounds of soulful guitar solos until it's time to get into awesome gun battles. And Lam's gun battles are awesome; loud, sweaty, and harrowing. There's an intensity to the violence — the way bullets thwack into concrete walls and grenades knock people around like rag dolls — that's missing in a lot of action films. This is not a John Woo fantasia where characters can systematically mow down entire buildings full of henchmen without getting hurt. Characters die, suddenly and painfully. Police work is a dirty business.
Lam keeps ratcheting up the stakes: from foot chases to frenzied shootouts in crowded restaurants to life-and-death escapes down construction scaffolds. In the big finale between the good cop and bad cop, he throws in an additional element of jeopardy that deserves an award for sheer audacity. So I'm inventing one for him right now: The WTF Award For Craziest, Most Shamlessly Manipulative Imposition of Stakes on a Action Sequence. Congratulations Dante Lam, you've earned it. Once action fans see this one, they won't forget it.
If only the characters were that memorable. No dice. Lam's action is innovative and clever, but his approach to the characters is the exact opposite: predictable and obvious. We know these cops from so many previous movies. Not a single thing they do surprises us. And while I've tried very hard not to spoil the details of the plot, the ultimate outcome of the story will be immediately clear to anyone within the film's first fifteen minutes.
The result, predictable on the story side, unpredictable on the action side, leaves you with a solid but unexceptional piece of work, another Hong Kong action film as straightforward as its characters' sad, desperate, exciting lives.