Toronto 2010: Dustin Lance Black Talks About What Went Right on "What's Wrong With Virginia"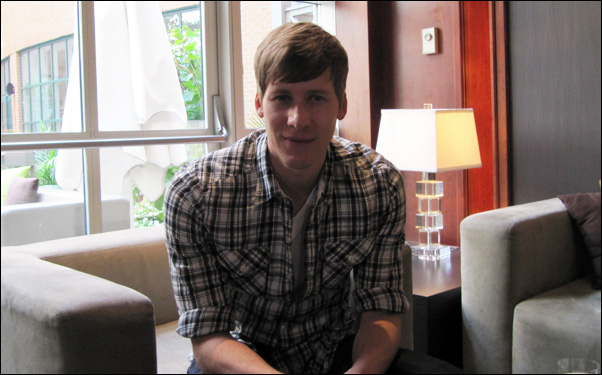 Posted by Stephen Saito on
"I'll bravely say this: it probably will be one of my favorite films I'll ever work on," Dustin Lance Black said to me a day before the premiere of his directorial debut "What's Wrong With Virginia" at the Toronto Film Festival. These words seem even braver considering the odd predicament Black found himself in when we spoke; in one of the peculiarities of the festival, the film's press and industry screening wasn't well-received yet there's still hope that the public could embrace it when the film makes its official premiere this evening.
"What's Wrong With Virginia" is an unusual film, to be sure, but also a heartfelt one, the result of an experiment where Black was egged on by a friend early in his career to write a script he wouldn't show to others. What came spilling out was something that Black says "freed me up to start talking about some things and situations in my life that I hadn't been comfortable discussing," resulting in a story that touched on growing up as a Mormon in the south raised by a single mother.
Given some history of schizophrenia in the family, Black was inspired to write about the relationship between Virginia (Jennifer Connelly) and Emmett (Harrison Gilbertson), a mother and son who depend on each other since Virginia suffers from mental illness and Emmett, at 16, is still too young to take care of himself. Even under each other's supervision, the duo still gets in trouble as they engage in romances with the devoutly Mormon local sheriff (Ed Harris) and his daughter (Emma Roberts), respectively, complicating the former's run for a state senate seat since he's married.
Soon, there are bank robberies, sex toy deliveries, and shady political double-dealing, all against the backdrop of a boardwalk-based community in the Deep South, told in a semi-whimsical tone (aided by a score from DeVotchka's Nick Urata and the candy-colored set design by Laura Fox) that belies the very real issues of mental illness and responsibility Black attempts to tackle. If nothing else, the Oscar winner (for "Milk") can take pride in making exactly the film he wanted to make and he took the time to talk about the controversy surrounding the film, how executive producer Gus Van Sant pried his leading man out of Australia and the work he's already started on a biopic of the life of J. Edgar Hoover he's written for Clint Eastwood.
I wanted to get the elephant in the corner out of way – you've probably heard the reaction to the press screening was mixed.
I did, which was a shocker, I gotta say.
Does that fit into the general pattern of reactions to your personal story since you had such an unusual upbringing?
No, I always knew we were taking big risks with this film, big chances. When I went into it, I tried my best not to worry about what people were going to think. I did my best to stylistically create what was in my heart and my head, honoring my experience growing up and that's everything from performance to the color of the walls. So I knew it was going to be pushed, I knew it was going to be bumped. I knew for a lot of people it's not going to feel quite real, but I also think that for most people, they're really going to attach to this mother/son relationship.
I think for most of the general public, they're going to fall in love with Virginia and they're going to fall in love with Emmett. I think this is a pretty universal story in that way – although these two are extreme, I think it's a very universal story of not having that caretaker that you might think is ideal and those roles becoming a bit vague – who's taking care of who happens a lot in this country and what you're willing to do to take care of each other. I'm being very, very true to my experience and that's going to rub some people the wrong way and I hope that people will come around to it and also start to appreciate the tone as something that is very new. I understand that for some, it could be off-putting, but I sort of enjoy that too, I'm not going to lie. [laughs]
I think somebody said it leans towards kitsch and you know what? I aspire towards kitsch because that's what my childhood was like. That's what it was! This is what it felt like, so some of the negative reviews I've been like exactly. Thank you. That is perfect. And you go with it. I read one that was incredibly negative and I [thought] I wish I could shout out to the world, "Yes! And this is why you should see the film."
Since you're known for writing biopics, did any of the same rules apply for writing something related to your own life, even though this is fiction?
It's loosely based on my experience growing up – loosely based. The characters are mostly based on real people in my life – I'm not going to name names — and some real events. But no, in a biopic, I'm always taking something that's very disparate – pieces that are separated by a lot of time and space and cull a story from all this disparate pieces. Then you try and make something that looks very traditional out of something that absolutely is not a traditional narrative because whose life is? Nobody lives a three-act play, really.
This was a bit of the opposite for me. I flipped it a bit and I didn't in any way want to follow a traditional narrative. I wanted to experience these people's points of view of this situation and you have multiple narrators — that's untraditional. It's not a traditional three-act structure storywise. In fact, sometimes, you're inundated with events and some of them seem wild and outlandish and I feel like that's how it felt to me growing up. It felt like chaos. But at the core of it, I hope, is this mother/son love and this hope for something greater.