Disc Covering: "The Confidant," and the Bell Curve of Stardom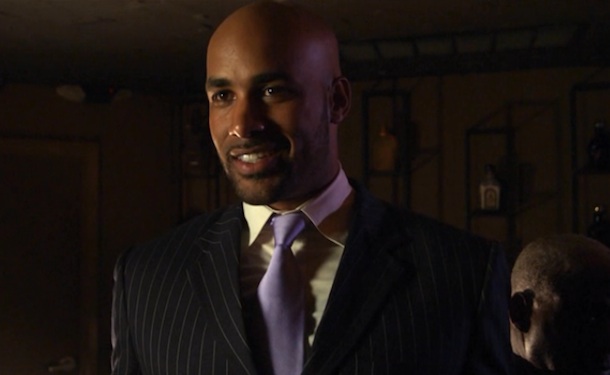 Posted by Matt Singer on
The careers of most Hollywood actors can be plotted along a bell curve: anonymity, attention, success, stardom, struggle, decline, anonymity. Most of the recognizable stars who've appeared in movies featured thus far in this straight-to-DVD column have been at the tail end of the bell curve. This week's a little different. We've got a movie starring a guy right on the cusp of a breakout: Boris Kodjoe, one of the leads of J.J. Abrams' new series, "Undercovers." That's fortunate timing indeed for the makers of "The Confidant," released to DVD just in time to take advantage of his increased exposure. And if the show takes off at all, he won't be making too many more movies like it. At least not until he gets to the other side of the bell curve.
The Confidant
Directed by Alton Glass
Tagline:"When Your Closest Friend Becomes Your Worst Enemy"

Tweetable Plot Synopsis: Gambling addicted former football star (and current douche) must deal with the return of the man who went to jail for a crime he committed.
Salable Elements: Kodjoe right on the cusp of stardom; an ensemble full of names that look good on a DVD cover including rapper David Banner, original Shaft Richard Roundtree, Bai Ling, and DTV Hall of Famer Billy Zane; a salacious storyline with a fair amount of nudity.
Biggest Success: "The Confidant" has a perfect pulp fiction premise: a cocky college football star named Nigel (Kodjoe) on the verge of signing a huge pro contract gets into a fight with a guy at a poker game and winds up killing him in self-defense. He convinces his friend Daniel (David Banner) to take responsibility for the murder so he can stay out of trouble and in line for his big payday. Daniel reluctantly agrees, and winds up locked away for eleven years (apparently the fact that the victim was Billy Zane was looked upon favorably during sentencing).
Now we fast-forward to the present: Daniel gets released, and finds Nigel washed-up with a bad knee, mounting debts, a gambling problem, and a emotionally fakakta wife (Kenya Moore). Daniel wants compensation for his sacrifice. Nigel wants to keep his secret buried. What to do? By the midway point of "The Confidant" the answer for all parties, unfortunately, is "Act really crazy and stupid." But kudos to writer/director Alton Glass for dreaming up the idea for the best '90s sleazefest Paul Verhoeven never made.
Biggest Failure: Kodjoe's a handsome guy, and he has the charisma to carry a movie, even one as logically challenged as this one. Even if "Undercovers" doesn't hit, he's got a bright future. But I'm not sure I can say the same for co-star David Banner. He's got a good thousand yard stare and he makes a competent and totally believable badass. But his dialogue readings are painfully stilted, and when the screenplay asks him to do anything beyond simple menace, he looks out of his depth. Also, you'd think a popular musician who's enjoyed his share of partying on tour would know how to play drunk. Not quite. As rapper-turned-actors go, Banner's not bad, but not great, sort of a poor man's Ja Rule, who's sort of a poor man's DMX who, by the way, looks like a very strong candidate for next year's DTV Hall of Fame class.
Best Moment: Banner's intimidating demeanor play perfectly into one of Glass's most clever directorial decisions: he cast another actor to play Daniel in the flashback scenes that show how he wound up taking the fall for Nigel. Typically you'd just have the same actors play these parts; Kodjoe and Banner could easily pass for early twentysomethings for a couple of scenes. Instead Glass got a younger, innocent looking guy to play Daniel so that when the character emerges from prison eleven years later, he is a new man, both figuratively and literally. It's a risky choice, but it pays off, since it sells the toll life behind bars had on Daniel in a way that Banner's performance doesn't.
I Question: whether a man desperately trying to keep his wife from discovering his criminal past would encourage the man who took credit for said criminal past (and is bitterly angry about it) to live with him in a big empty mansion where he can try to seduce his wife for revenge. Wouldn't it be smarter to set the guy up with some money and stash him in a condo somewhere? Of course, but then there would be no movie.
Worthy of a Theatrical Release? No. The production values are on the lower end of the DTV scale, and the third act is a mess of crazy ass plot twists and maudlin dream sequences. But the germ of the story here is so juicy. Instead of remaking another popular film from the 1980s, Hollywood should take a movie like this one that doesn't quite work and tweak it into form. And by the time it happens, Kodjoe'll probably be a big enough star to anchor that version too.
For Further Viewing: watch Paul Verhoeven defend one of his understood and underappreciated '90s sleazefests, in a brief excerpt from his DVD commentary for "Starship Troopers":