Disc Covering: "The Assassin Next Door" Is Smarter Than You Think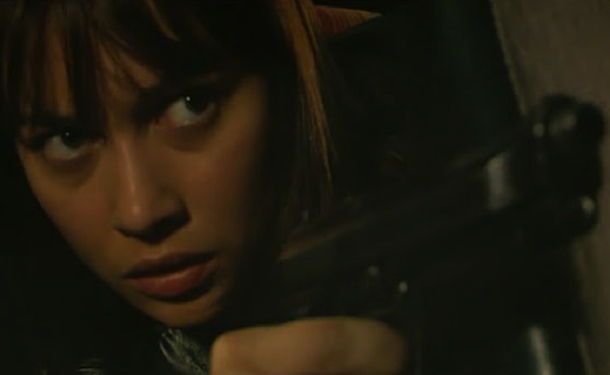 Posted by Matt Singer on
Immediately after she saw the George Clooney film, "The American," IFC.com editor Alison Willmore tweeted, "Are there ever any HAPPY assassins? They're always moping around by themselves. There has to be some upside to it as a career choice." She had an excellent point: movie after movie portray hitmen as dour, moody depressives. Presumably no one is forcing these people into the profession. The economy's not that bad, and it's not one of those jobs that's passed down from one generation to the next like a cobbler in Victorian England ("You want me to be like you Dad! But I'm not like you! I don't want to use an M40 rifle to lay down supressive fire!"). Surely their skills — accuracy with guns and knives, making enigmatic conversations seem incredibly charming, doing lots of pushups without a shirt on — would suit them well in other jobs. What about the comfortable and very lucrative field of private security?
The first thing that jumped out at me about this week's straight-to-video selection, "The Assassin Next Door," is that it features a sad assassin who has a damn good reason to be depressed. She's a Russian prostitute stuck in Israel, forced to pay off her debt to her pimp by becoming a killer for hire. Unless she murders who he says, when he says, she'll never get the money and passport she needs to return to her family in Russia. See, now that's a good reason to be bummed about being a professional murderer! It may be hard out here for a pump but it's way harder for the woman he forces at gunpoint to shoot people for him.
"The Assassin Next Door"
Directed by Danny Lerner
Tagline: Beware of thy neighbor.

Tweetable Plot Synopsis: Justifiably sad assassin teams up with battered spouse to free themselves from shackles of patriarchal society while looking extremely hot.
Salable Elements: Bond girl Olga Kurylenko as said sad assassin; a
world premiere at the 2009 Toronto International Film festival.
Biggest Success: Kurylenko wasn't the most believable former Bolivian secret service agent in "Quantum of Solace," possibly because in real life she's a former not-Bolivian supermodel. But I have to say: she is very convincing as Russian-prostitute-turned-reluctant-killer Galia in "The Assassin Next Door." Her accent and her English was never her strong suit, but this film permits her to speak primarily (and much more naturally) in her native Russian.
She just looks and sounds the part (only in a film review can you say that a woman looks and sounds like a hooker and mean it as a compliment). Her performance in "Quantum of Solace" — which made Denise Richards' nuclear physicist from "The World is Not Enough" look authentic in comparison — made me think she was going to wind up on the Lois Chiles end of post-Bond girl careers. "The Assassin Next Door" suggests otherwise.
Biggest Failure: "The Assassin Next Door" is an accurate but somewhat misleading title. True, Galia lives next door to a woman whom she befriends and assists. But the title suggests wacky shenanigans ahead, possibly involving adorable child actors who help Kurylenko oil her guns or shine her garrote wire. That's simply not the case.
The film is much more a moody character study about two women learning to stand up to the men that abuse them than a cutesy action-comedy (or even a traditional straight-to-video exploitation action picture). The filmmakers probably should have stuck with the film's original and far more appropriate Hebrew title, "Kirot," which literally translates to "Walls."
Best Moment: An impressive long take that follows Kurylenko, her eyes darting everywhere with barely contained anxiety, as she enters a dance club, seeks out her target, stalks her across the dance floor, and then follows her into a bathroom where she must kill her. Imagine if Ray Liotta walked into the Copa in "Goodfellas" and then immediately shot a guy in the front row, and you've got the idea.
I Question: the first meeting between Galia and her next door neighbor Elinor (Ninette Tayeb). "My name's Elinor," she says, "like the song," before proceeding to sing the song, earnestly and very sweetly, on a public bus. Have you ever met anyone who shared a name with a famous song who didn't hate that song and anyone who brought it up? You think Willmore introduces herself as "Alison, like the song" and then busts out the Elvis Costello? No, never.
Best Line: "I thought we'd celebrate properly, with Hummus and Vodka." — Kurylenko's pimp, after she successfully carries out a hit.
Worthy of a Theatrical Release? Surprisingly, yes. Despite the cheesy title, "The Assassin Next Door" is a mature and satisfying variation on the sad assassin genre. It's a type of character we've seen before, in a setting (the Israeli underworld) and a style (female revenge fantasy) that feels unique. I like writer/director Danny Lerner's unconventional take on the conventions of this genre: for example, instead of going to a priest for the tired scene where the sad assassin confesses their sins and unsuccessfully seeks absolution, Galia convinces Elinor to take her to a mikvah, a ritual Jewish bath for married women. This is one of those movies that does enough things right (good performances, impressive camerawork, clever genre twists) to forgive the things it does wrong.
For Further Viewing: The official trailer for the film, which sells it as exactly the sort of slick, buddy action film it deconstructs: