Crime and Punishment in Lars Von Trier's 'Dancer in the Dark'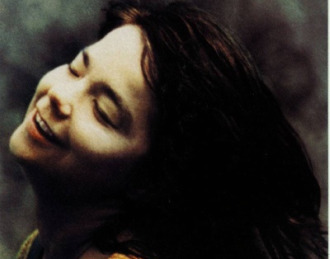 Posted by Melissa Locker on
If there ever was a film to live up to the cliche, Lars von Trier's Dancer in the Dark is a heartbreaking work of staggering genius. As a proponent of the Dogman95 movement, von Trier strives to rid his films of everything jaded and phony about contemporary cinema. While the film is certainly stylized, the hand held camera used to create the film lends a certain realism that makes it even more wrenching.
Icelandic musician and artist, Bjork, makes her film debut as Selma, a Czech emigre working in a dreary pressing plant to support her young son, Gene. The few bright spots in her otherwise dull life are her son, her friendship with Kathy (Catherine Deneuve), her seemingly infatuated co-worker Jeff (Peter Stomare), and the fact that she has landed the role of Maria in the local production of The Sound of Music. But Selma has a secret passion for the music of everyday life that comes out in the film in imaginary scenes that create a modern-day musical out of ordinary objects.
Selma is a simple-minded yet stubborn woman, similar in many ways to Emily Watson's "Bess" in von Trier's Breaking the Waves. And, much like Bess, tragedy soon befalls Selma. Selma and her son suffer from a condition that is slowly rendering them blind. She works non-stop to raise the necessary funds for an operation that will save her son's eyesight. When the money she has squirreled away disappears, the resulting tide of tragedy upon tragedy begins to overwhelm the once stubbornly optimistic Selma.
You will never cry so much at a movie (seriously, we're talking wet shirt amount of tears), but von Trier's relentless realism makes something beautifully compelling about the tragedy. It is heartbreaking, but you can't look away.
Here is one of the musical numbers, "I Have Seen it All", written and performed by Bjork:
'Dancer in the Dark' airs on IFC at 11 a.m. ET and on Sept 21 at 6:15 a.m. and 3:15 p.m. ET