Clip Analysis: "Deus Ex: Human Revolution"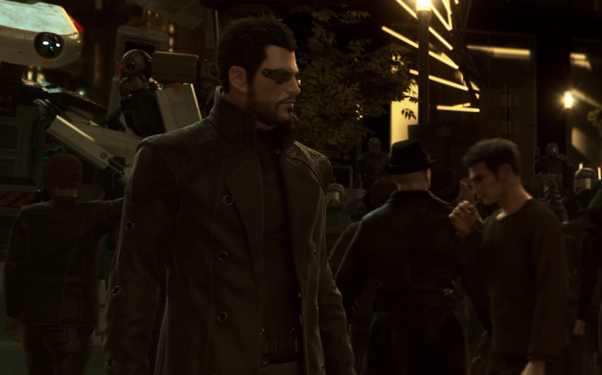 Posted by Evan Narcisse on
Video game teasers tend to stick to a certain formula: dazzle the viewer with awesome graphics, show off some of the games' abilities and maybe dribble a little story out to tantalize would-be players. But every so often, one piece of video-centric marketing will float above the rest or sink to join the sludge.
In Clip Analysis, I'll be looking at trailers, teasers and just about any game-related video in an effort to call out what works and what doesn't in terms of communicating a particular game's coolness.
This time, I'll be taking a look at the trailer for "Deus Ex – Human Revolution."
For the bulk of video games' first two decades as popular entertainment, the heroes you controlled were, in the main, square-jawed and sure-footed. You never had the chance to think about how Mario felt about all that jumping or being told over and over again that his princess was in another castle. Of course, as the technology used to deliver gaming experiences improved, the personas you controlled and met got more expressive, as did the worlds you played in. Characters got to smirking and grousing but they still generally saved the day in morally upstanding and strictly proscribed ways.
Designed by Warren Spector and Harvey Smith, the 2000 title "Deus Ex" changed all of that. Controlling UN anti-terrorist agent JC Denton, players uncovered a vast and centuries-old conspiracy. In the 2052 of "Deus Ex," a global health crisis causes riots when only the elites have access to a vaccine. The player's conversations and decisions at key points would affect the way your story unfolded. The third-person action also integrated RPG elements to let players craft a playstyle that could be stealthy or more weapons-focused, while providing a multiplicity of routes to meet an objective. In the decade since it came out, fans and critics have elevated "Deus Ex" to a hallowed status for the flexibility it allowed and its dystopian futureshock vision. A sequel-"Deus Ex: Invisible War" came out in 2003 but didn't earn as a similar spot in gamers' hearts as the first game.
Now, ten years after resetting expectations about video game experiences, the series returns to PCs and consoles with a prequel to show how the world became the fractious mess that JC Denton inherited.
"Deus Ex" is a series known for multi-path progression and moral ambiguity. Unfortunately, for the directors of this video, those attributes are really hard to put across in a non-interactive way. There are hints, though. The angst in main character Adam Jensen's voice as he opines about the current state of the world suggests that he may go to extremes
"Human Revolution" appears to suffer from the Technologically Advanced Prequel Problem, where the milieus in earlier chapters look more high-tech than the one that are chronologically further along in the canon. ("Halo: Reach" suffered a bit from this, too, with its swappable Armor Abilities that never show up in Master Chief's adventures.) Still, the Blade Runner-style aesthetic on display in the trailer does make you want to jump right into the playground the game promises to you.
GIGW Alert! (That's Guilt-Inducing Ghost Wife, for those of you who haven't read Alison Willmore's trope-defining piece of excellence.) Adam joins the countless ranks of protagonists who've suffered the Heart-Breaking Loss of a Loved One as a catalyst on the heroic journey. Now it's a safe bet that this HBLLO will be the reason that Adam comes to an existential crossroads. Hopefully, the gameplay will make the most of this well-worn
The new thematic wrinkle "DE:HR" adds is the blurring between man and machine. Adam's experienced a near-death and a cyborg resurrection. JC Denton had augmented abilities, too, but those came from nanomachines that still let him look human. Adam's enemies seem similarly cybernetic but more robotic than he does. An educated guess says that Adam's struggle to hold on to his humanity will inform the moral greyness of the game.
"Deus Ex: Human Revolution" comes out from Square Enix next year.