Toronto 2010: "Client 9: The Rise and Fall of Eliot Spitzer," Reviewed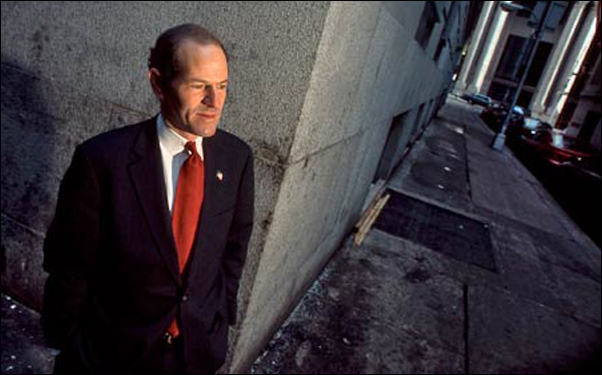 Posted by Stephen Saito on
Reviewed at the 2010 Toronto Film Festival.
There's something unusually fitting about the way "Client 9" will advertise itself on the promise of Eliot Spitzer showing some recalcitrance or regret in his first major interview since resigning as the Governor of New York when in fact that's not what Alex Gibney's documentary is really about. Longtime supporters of Spitzer will likely know this in advance, having understood long ago that the same intellectualism that powered his crusade as a state attorney general to bring transparency to Wall Street would also render him nearly emotionless when trying to rationalize something personal.
As Gibney tries to pry in "Client 9," you'll hear Spitzer toss off comparisons to Icarus and boilerplate contrition, but what's far more telling is how the ex-governor can barely suppress a smile when talking about bringing down former AIG chairman Hank Greenberg or facing off with disgraced New York politician Joe Bruno.
A born brawler, Spitzer was meant for greater battles than those with the tabloids, or so reasons Gibney, a master of takedowns in previous docs about Enron and Jack Abramoff who it's fascinating to see recount the downfall of someone he clearly admires. Such admiration for Spitzer extends to the prostitutes he frequented too – not necessarily Ashley Dupré, who Gibney outs as a publicity-starved "one-night stand" who fit conveniently into the media's narrative — but primarily "Angelina," the escort who insisted on having conversations before sex because "he was so smart, so interesting."
That Angelina was willing to talk to Gibney is likely a testament to her regard for Spitzer, but the fact that Gibney waits until midway through the film to acknowledge the bubbly, sandy-haired twentysomething with pouty red lips and porcelain skin not unlike Amanda Seyfried in "Chloe," is actually an actress (Wrenn Schmidt) reenacting a transcript of an interview is part of the deception that Gibney simulates as the key to Spitzer's ultimate undoing. (As a practical matter, "Angelina" wouldn't speak on camera, but Gibney acknowledges this well after she first appears onscreen.)
The irony, of course, is that Spitzer's primary issue as a politician was transparency in business and political affairs, and although Gibney doesn't gloss over the contradiction this created personally for Spitzer by his personal indiscretions, he seizes upon it for the structure of "Client 9," which jumps back and forth in time to parallel Spitzer's rise on the back of fierce legal fights with financial giants Merrill Lynch and AIG to rectify corrupt corporate culture, with his ouster engineered in the shadows by those who became his enemies.
Incidentally, the same point about Spitzer is made far more concisely in another documentary at Toronto, Charles Ferguson's "Inside Job," but Gibney's doc is rich in characters that are every bit as compelling as the main subject. Gibney doesn't short-change Spitzer's considerable adversaries — Greenberg, Bruno, the gregarious Home Depot co-founder Ken Langone, all of whom don't mince words in painting Spitzer as a fly in the ointment — and gives equal weight to less esteemed players who figured in the governor's fall from grace like Cecil Suwal, the giggly then-22-year-old madam whose love of a 60-year-old pimp put her in the position of arranging dates for Spitzer, and Roger Stone, the brash, overtanned political consultant whose conversation at a Miami strip club while trolling for potential swinging partners led to the discovery of Spitzer as a john.
Given that Gibney's last film "Casino Jack" didn't come together as seamlessly in spite of a similarly colorful cast, the secret to "Client 9" may rest with the involvement of Peter Elkind, the Fortune journalist whose book "The Smartest Guys in the Room" (with Bethany McLean) previously laid the groundwork for "Enron" and serves as a producer and interviewee here since the film is based on his Spitzer tome "Rough Justice."
The focus is sharper here and what digressions it has — asides about everyone who came into contact with Spitzer, the arcane nature of New York politics, the increasing legitimization of high-priced call girls and the decreasing notion that they are victims, the montage of politicians who've lost far less for their sexual dalliances — are interesting without being overwhelming.
Still, for a film about his life, Spitzer feels only but a minor player in "Client 9." Sitting alone on an off-white couch — his wife Silda declined to be interviewed — the once-indefatigable litigator is left to articulate his meticulous legal wrangling for the public good in a direct, hopeful manner that too few are blessed as his friends and foes wonder aloud about his future and what could have been. The fire is clearly not gone, and the film is not above suggesting it won't be used towards a meaningful end, but for now, Spitzer is confined to the sidelines, outfoxed by forces as old as the world's oldest profession and, in Gibney's eye, far more shameful.
"Client 9: The Rise and Fall of Eliot Spitzer" will be released by Magnolia Pictures on November 5th in New York and Los Angeles.