Chuck Norris Double Feature! You Know You Want to Watch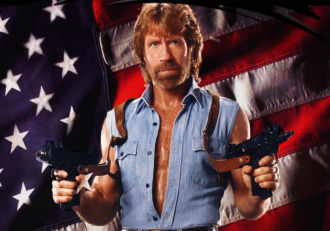 Posted by Melissa Locker on
While other action stars of the 70s and 80s *cough* Sylvester Stallone, Dolph Lundgren *cough* may consider themselves "Expendables" now, Chuck Norris would probably take great offense at being called expendable. And you wouldn't want Chuck Norris mad, now would you? The star of such classic action flicks as Delta Force and Missing in Action has made a name for himself as the ultimate and strangely ageless iron man. Even his appearance on Family Guy revealed his enduring toughness. You see, Chuck Norris even has another fist hidden in his beard. He's not a man for trifling.
In today's Double Feature we get to see Chuck at his finest, no offense to Walker: Texas Ranger. First up is Good Guys Wear Black. Chuck plays a schoolteacher who uses all his martial arts skills to track down a politician who set up his army buddies to die during a mission in Vietnam. Chuck doesn't take kindly to sabotage and takes it out on the guy's face. Next up in the flying fist double feature is Breaker! Breaker! where Chuck plays a trucker looking for his missing brother. What he finds is a town ruled by a corrupt judge who is serious need of an whupping. Dynamite never hurts either.
You better watch tonight's Double Feature because if you don't, Chuck Norris will find you and make you. You wouldn't want that now would you?
Here's the final fight from Breaker! Breaker! . Guess who comes out on top?
'Good Guys Wear Black' starts at 8 p.m. ET; 'Breaker! Breaker!' follows at 9:45 p.m. ET