"Bioshock Infinite" Gameplay Trailer Traffics in Extremism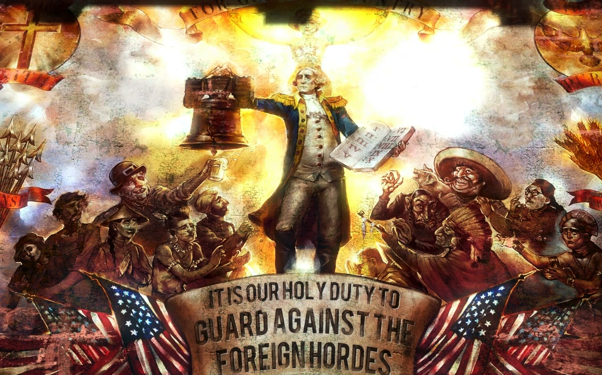 Posted by Evan Narcisse on
One month after the reveal of their eagerly anticipated title, Irrational Games is letting folks glimpse what the gameplay experience of "BioShock Infinite" will be like. To recap, players will be controlling Booker DeWitt, a former Pinkerton agent who's contracted to go to the elusive, floating city of Columbia in search of a girl named Elizabeth.
People who've played any "BioShock" will recognize the overall play style-gun combat and superpowers-and a few of the attacks Booker uses resemble the electricity and telekinesis abilities in the previous games. Where "Infinite" diverges most from "BioShock" or "BioShock 2" is in the themes it's attacking. The previous two games in the series revolved around psychological and philosophical ideas-Objectivism and Collectivism, respectively–and kept the ideas at play on the level of the individual. Not so with this new game.
This shift came up when I spoke with Irrational Games' Tim Gerritsen but it's far more apparent when we watch Booker prowl through Columbia's streets. On close inspection of the gameplay trailer, "BioShock Infinite" seems even more politically themed than first guessed. When Booker comes upon the fiery orator Saltonsall, the older gentleman's speech sounds like it could've been pulled from an ultra-conservative militia tract. While the environmental design of the flying city seems to exist as open and airy dollops of Americana–it might as well be the Liberty Bell falling in front of you–the people there are anything but welcoming. The plot details that have trickled out so far have Columbia disappearing into the sky after a scandalous international incident and, in their time away from the rest of the world, their communal subconscious seems to have curdled into a virulent chauvinism. You're a stranger in these parts and that alone can get you killed. And honestly, the substance of Saltonsall's speech would sound right at home coming from Glenn Beck or any crazy Tea Partier. The paranoiac signs in the gazebo–"They'll Take Your Gun," "They'll Take Your Life," "They'll Take Your Business," "They'll Take Your Life!"–spring from the same place as the Birthers' claims that there's a Kenyan anti-colonialist in the White House.
It's easy to focus on the gameplay in the trailer. Showing off the mechanics is its raison d'etre. Seeing Elizabeth and Booker use their powers together delivers a taste of the possibilities that will be on offer when the game comes out. And the world looks like a fascinating mix of steampunk and Gilded Age, with mustachioed cyborgs and roller-coaster conveyances. But, there's some cutting commentary folded into all of that, too, and it's the real reason that "BioShock Infinite" could stand out from the crowd when it comes out in 2012.