"Bibliotheque Pascal," Reviewed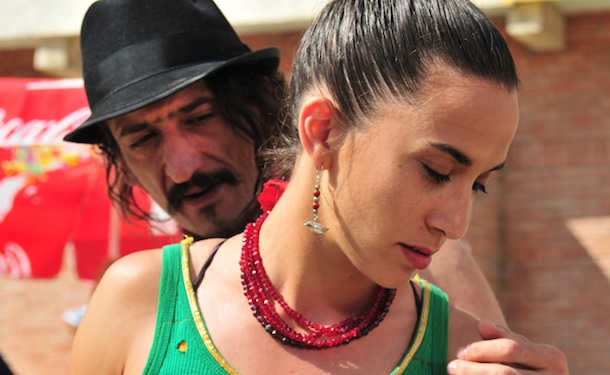 Posted by Matt Singer on
Reviewed at Fantastic Fest 2010.
How in the world did director Szabolcs Hajdu convince investors to give him the money to make his new film, "Bibliotheque Pascal?" Given its highly unconventional style and incredibly horrific subject matter, I can only assume Hajdu is one of the most charming and persuasive salesmen in the entire world. Oh to be a fly on the wall of that pitch meeting:


Investors: So what do you have for us?
Szabolcs Hajdu: I want to make a film about people who can project their dreams into other people's minds.
I: Oh great. That's interesting. So where does the story go?
SH: To an underground sex club in England where women are kept as slaves.
I: Um, wow. Ok. I don't know that I see the connection to the dream projection but —
SH: And there's also some fairy tale stuff in there as well.
I: That's fine. Can we just go back for a second to the sex slaves?

SH: Literary themed sex slaves.
I: Literary themed sex slaves?
SH: The women are given names like Joan of Arc and Desdemona. Then they have to read excerpts from classical literature while they're raped and maybe killed.
[Awkward silence]
This all ties in to the subtext about the nature of roleplaying and self-deception as well as to ideas about storytelling, which relates to one of the sex slaves and her former life in Romania with her daughter, who's one of the people who can project her dreams.
[Awkwarder silence]
I: Well, it does have sex in it…
And scene. Somehow this conversation ends with the phrase "Here's a whole bunch of money. Go make your movie." And that fact, to me, is almost as insane as the movie itself.
All those crazy elements — the dream projection, the sex slavery, the fairy tales, the exploration into the nature of storytelling — coexist in this one surreal film. It tells the story of Mona (Orsolya Török-Illyés), a Romanian woman who, through a extremely convoluted series of events, winds up as a sex slave in a "classy" English brothel named Bibliotheque Pascal. Story is the key word here, since Mona is describing these events to a case worker who must decide whether or not Mona, back home after her ordeal, is fit to care for her daughter again. The story she tells also includes numerous additional nods to the art of storytelling, as when Mona makes her living as a street performer giving puppet shows. That's before her own father convinces her to accompany him on a trip abroad and sells her into slavery.
The most interesting moments take place in the repulsive Bibliotheque Pascal. The ringleader of this sadistic circus is Pascal (Shamgar Amram), first seen delighting a well-dressed audience with a charming and witty display of magic. Then he visits an underground slave market and selects Mona as his new Joan of Arc. Not so charming anymore.
Mona's locked into a room, dressed in army fatigues, forced to memorize some of Bernard Shaw's "Saint Joan," and regularly assaulted. These scenes are deeply, deeply upsetting, largely because of Amram's memorable performance as Pascal, a master showman and sadist who tells Mona that she is better off locked away in his dungeon and genuinely seems to believe it. The film has a perfectly rational explanation for its fantastical elements, including the fact that Mona's lover and daughter, possess the ability to share their dreams with the people around them, but to discuss it in detail would spoil a major part of an ending that is, like the rest of the film, equally fascinating and frustrating.

"Bibliotheque Pascal" takes risks. Many of them do not pay off. But at least it takes them. The number one complaint of critics — and I'll lump myself in with this group — is that there are no original movies, that one film after another is just another float in an unending parade of homogeneity. "Bibliotheque Pascal" is put up or shut up time for that kind of thinking. The characters are flat, the ending, which redefines everything that's come before it in the picture, will anger many viewers, and the plot is such a slow burn that the embers threaten to stop smoldering altogether on a couple of occasions. But "Pascal" also doesn't look like any movie you'll see in a theater this year. If we really value originality, then this movie deserves some amount of credit. So does the director. I still don't know how he got this thing made.