Before There Was 'Lost', There Was 'Lord of the Flies'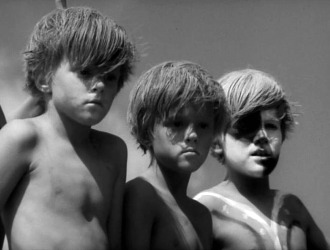 Posted by Melissa Locker on
If a plane crashed on an isolated desert island, what would happen to the rag tag group of survivors? No, it's not the pitch meeting for 'Lost', it's the underlying question behind William Golding's classic novel Lord of the Flies. The 1963 version was directed in stark black-and-white by Peter Brook and was much more successful than the 1990 version.
In Golding's novel, a plane full of British school boys crashes on a deserted island leaving the boys stranded with no adult supervision. The schoolkids set about surviving, which for them means electing Ralph as leader and Jack (not played by Matthew Fox) to lead the hunting parties to kill the island's wild pigs (not polar bears, though). Things go from bad to worse leading viewers to the undeniable conclusion that the thing they would least like to be trapped on a desert island with is a pack of British schoolboys.
Peter Brook used amateur actors (a.k.a. actual schoolboys) to star in the film, that was shot on location in Puerto Rico. Their reenactment of the savagery that lies within was realistic, if perhaps a bit uneven, and the movie and the message are as relevant and frightening today as they were in 1963. The increasingly unfettered brutality of the schoolboys makes you long for, say, the Smoke Monster to come and instate a bit of law and order.
'Lord of the Flies' airs on IFC at 11:15 a.m. and again at 4:05 p.m. ET