Barack Obama on Bob Dylan, Paul McCartney, and His Rap Palate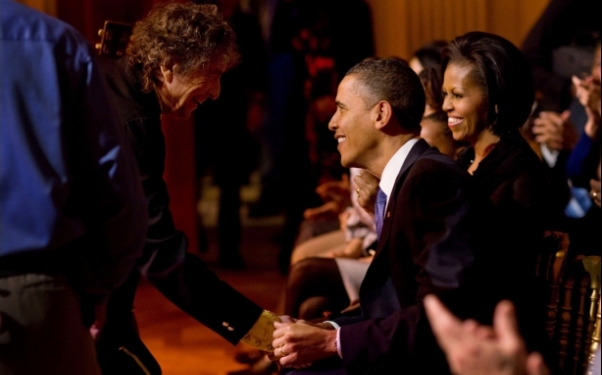 Posted by Brandon Kim on
When President Obama isn't compromising the shit out of his original intentions in order to try and at least get a few things done with his political opponents, he's busy addressing the lingering, endless, global War on Terror (and re-branding it the Overseas Contingency Operation). It's a wonder he has time to see concerts or listen to much music at all, but being the most tech savvy Pres in living memory he's also the first who can operate an iPod. Of course, he can also bring those concerts into his living room, he's the POTUS after all.
Jann Wenner writing for Rolling Stone visited with Obama (for their October 15th issue). The long interview began with Obama noticing Wenner's weird multi-colored socks, "If I wasn't president, I could wear socks like that," he laughed before they launched into headaches like financial reform, the tea baggers and the war. But they also squeezed in time for a conversation on music.
"I am probably still more heavily weighted toward the music of my childhood than I am the new stuff," Obama admits. "A lot of Stevie Wonder, a lot of Bob Dylan, a lot of Rolling Stones, a lot of R&B, a lot of Miles Davis and John Coltrane."
He also relaxes to a lot of classical and a touch of opera. "I'm not a big opera buff in terms of going to opera, but there are days where Maria Callas is exactly what I need," further betraying his chill nature.
The President's iPod is 2,000 songs strong though so you know he's dipping into a little of the new stuff. "My rap palate has greatly improved. Jay-Z used to be sort of what predominated, but now I've got a little Nas and a little Lil Wayne and some other stuff, but I would not claim to be an expert," he confessed. Watch for Fox news printing that last bit out of context in the near future.
Wenner turned to the concerts that have been held at the White House and notable legends like Bob Dylan and Paul McCartney who've shown up there. Obama's retelling of seeing Dylan is priceless:
"Here's what I love about Dylan: He was exactly as you'd expect he would be. He wouldn't come to the rehearsal…. He didn't want to take a picture with me; usually all the talent is dying to take a picture with me and Michelle before the show, but he didn't show up to that. He came in and played 'The Times They Are A-Changin'.' A beautiful rendition," Obama recalled.
"The guy is so steeped in this stuff that he can just come up with some new arrangement, and the song sounds completely different. Finishes the song, steps off the stage — I'm sitting right in the front row — comes up, shakes my hand, sort of tips his head, gives me just a little grin, and then leaves. And that was it — then he left. That was our only interaction with him. And I thought: That's how you want Bob Dylan, right? You don't want him to be all cheesin' and grinnin' with you. You want him to be a little skeptical about the whole enterprise."

I like a man who likes a quality experience. "Having Paul McCartney here was also incredible" Obama added, clearly moved by McCartney's visit. "He's just a very gracious guy. When he was up there singing 'Michelle' to Michelle, I was thinking to myself, 'Imagine when Michelle was growing up, this little girl on the South Side of Chicago, from a working-class family.' The notion that someday one of the Beatles would be singing his song to her in the White House — you couldn't imagine something like that."
It's obvious, whatever his potential failings, that Barack Obama appreciates the genuine article. It comes across effortlessly, sometimes to his detriment — like digging that wild Pastor he once had in Chicago — but that authenticity is also part of what attracted Independents to him in the first place and is (along with a little reason) what may save his Presidency.

Additional photo: Paul McCartney and Stevie Wonder performing "Ebony and Ivory" at the White House. Official White House Photo by Samantha Appleton.