Back to the Future with Woody Allen's 'Sleeper'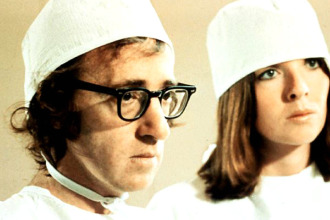 Posted by Melissa Locker on
Woody Allen's futuristic comedy Sleeper is a hilarious look at a future filled with scientific advances, modern gadgets, and strangely oversized fruit. The film is filled with anachronisms including a Dixieland score played by Allen with the Preservation Hall Jazz Band and New Orleans Funeral & Ragtime Orchestra. It's just one of the many quirks of Allen's fourth film that makes it so much fun to watch.
When health food store owner Miles Monroe goes in for routine surgery, something goes terribly awry, and he dies on the table. Luckily his sister has the foresight to have him cryogenically frozen. He wakes, cured of that pesky death thing, 200 years in the future. Luckily Diane Keaton is there to help smooth his transition into the brave new world of robot dogs, robot servants, and butterscotch pudding that won't stop growing. The future America is ruled by a bland dictator and Miles is soon swept protesting and cowardly (of course) into the underground resistance. There he meets Luna (Keaton) a rebel leader and ersatz poet who hates him on sight.
It's the most slapstick of all of Allen's films, bringing to mind the escapades of Laurel and Hardy more than, say, his later work like Hannah and Her Sisters. Luckily for the audience, Woody Allen excels in the genre and the movie moves along at a brisk, hilarious pace. But, it's not just one slapstick tableau after another, as in all of Allen's movies, the dialogue is subtly high brow, literary, and complex. It's also a love story. Rather, as the trailer describes it, the movie is, "A love story about two people who hate each other 200 years in the future." While Diane Keaton and Woody Allen may hate each other, we're pretty sure you will love them.
Sleeper airs on IFC at 2:35 p.m. ET