"Arthur" Remake May Have Solid Cast but What About the Theme Song?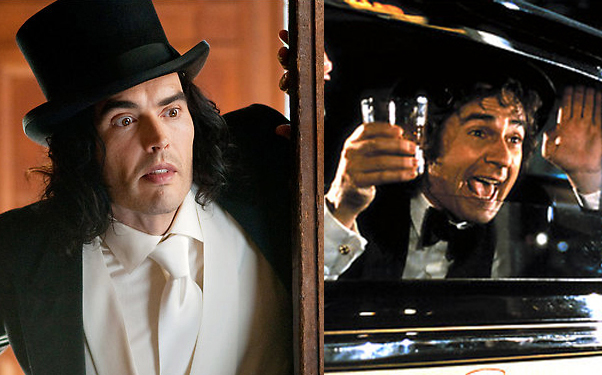 Posted by Brandon Kim on
One of the funniest films of the early 80's, Dudley Moore's "Arthur," is also one of it's most endearing. It made the sex thimble, Dudley Moore an enormous star soon after the success of "10," and won the indispensable John Gielgud an Oscar for his performance as Hobson — who will forever be the archetypal kind, but curmudgeonly butler. The film also gave us the mega-hit theme song (embedded below) "Arthur's Theme Best That You Can Do," from Christopher Cross and Burt Bacharach.
Now and then a film comes along with a theme song so perfect, that in some magic of image and sound, they become inseparable. It's a rare event and one that I doubt can be replicated in this remake that has comedian Russell Brand trying to fill Dudley Moore's shoes — granted Dudley Moore was a tiny man, but this will be no easy task for Brand — Moore was charming and tremendously hilarious in the role of Arthur. If it's been a while for you, the film is about a drunken, New york playboy, as worthless as he is filthy rich. He leads a boozy, fairy-tale life of excess, but ultimately redeems himself by choosing love over money.
A crucial change to director Jason Winer's remake is the casting of Helen Mirren in the role of Hobson, turning the supporting role from a male to a female confidant, butler to nanny. It's an interesting choice and may be one reason for fans of the original film to see this, but it risks losing the original film's buddy dynamic. I'm sure a relationship of equal or greater substance can be crafted with a woman in the role but the writers have their work cut out for them. I guess since they aren't taxing themselves writing an original film they may have inspiration to spare.
The writers too are either a point of concern or reassurance depending on your perspective. The first draft was written by "Borat" writer Peter Baynham, then as the NY Times reported, it went to another writer for polishing, then to seven more writers — all from ABC's "Modern Family" which Winer helmed for 13 episodes. But wait, then the script went back to Baynham "who arrives on the set every day ready to rewrite."
I'm told Nick Nolte, who plays the father of the heiress Arthur is arranged to be married to, sweat profusely on the set. Hopefully it wasn't over the script, which you'd think after nine writers having a go at it would be gold… or totally incoherent.
If there is some consistency it's rooted in what's carried over from the original, the basic story is largely unchanged, just updated for 2011. Helen Mirren noted that there is an original producer and sound guy too, "so there's a lot of respect, hopefully, being made to the original film," she said [Hollywood Outbreak].
Okay, the sound guy, but what of the music and that theme song? A little Burt Bacharach could go a long way to smooth over the work of nine different writers. And no one is smoother than the God of yacht rock, Christopher Cross.
In that same Times piece I mentioned, there is a comment from Larry Brezner, one of the producers from the original "Arthur" about a late change in the story, which originally ended with Arthur completely giving up his fortune for love. Audience tests showed it fared poorly — they wanted Arthur to get the money in the end too, even if that muddled the premise. So "The idea," Mr. Brezner said, "was: give Arthur the money, bring up the music loud and get the audience the hell out of the theater happy, before they have time to think about it."
Yes, bring the music up loud, good plan. But who's music will the remake make use of? I'm not sure I want to know who the "updated" Christopher Cross is. "Arthur's Theme (Best That You Can Do)" is now an easy listening staple, an integral part of any yacht rock mix along with "What a Fool Believes," "Rosanna" and of course, "Sailing." It won both the Golden Globe and the Oscar for Best Original Song. It's going to be hard to forget it while watching the remake if it's absent, or worse, if it's covered.