Apple Launches Games Section on Website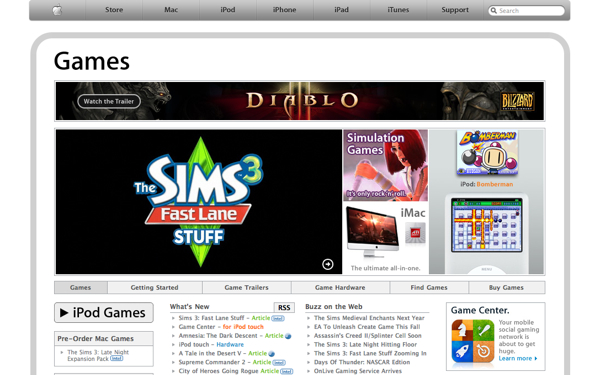 Posted by Evan Narcisse on
Go to Apple's official website today and you'll see something they haven't done before. It's not the next iteration of the iPad or another new magical product. With practically no fanfare, it quite simply is a section of the site devoted to games. Apple.com/games combines links to other game sites, video trailers for various titles and purchasing suggestions on for titles on the Mac OS X and iOS platforms.
The reason this is a big deal is because Apple's seen a once sweet relationship with video games go pretty sour. Ask any thirtysomething game designer where they cut their eyeteeth and almost everyone will respond with the Apple II e. The early Apple product blazed trailers in home computing and was the only widely available platform where the curious could pull apart game code and see how things worked. Without special developer equipment, you couldn't do that for the games on the Atari, Sega or Nintendo consoles. But when Microsoft started to dominate the PC landscape, publishers and developers devoted more time to getting their content on Windows machines. And Apple's never subscribed to the computer manufacturing template that let users swap out components like graphics processing chips or video cards. So, both game players and gamemakers flocked to the build-your-own flexibility that Microsoft's many hardware partners provided.
But, while you still can't really homebrew an epic Apple gaming rig, a switch to Intel chips in 2005 meant that both Windows and Mac computers would be using the same basic core hardware. That allows the Boot Camp virtualization program to run Windows and all that operating system's applications. That change, combined with the the mega-success of the iPhone and iPod Touch, has led game creators and publishers to rekindle a relationship with Steve Jobs' empire. Apple likes to brag that their iPod Touch is the world's most popular gaming handheld and no one could have predicted that games would be such a strong pillar of the content found on the App Store. There's more than 45,000 game apps on the iTunes store and Apple recently launched Game Center, a social networking hub that lets players track high scores and progress in iOS games.
Over the past few years, the company's Cupertino headquarters has been pulling staffers in from EA and IGN to help further bolster their image in the video games market. It's long been a fanboy dream that Apple would dip a toe into the lucrative video game market. Who wouldn't be curious as to what a gaming console from Apple design guru would look like? Or, how Apple's deft touch at designing elegant user interfaces would translate to video games? The Games portal probably doesn't presage any of that but it's still nice to see Apple devote a special section to interactive entertainment.