An Elevator Expert's Professional Opinion of "Devil"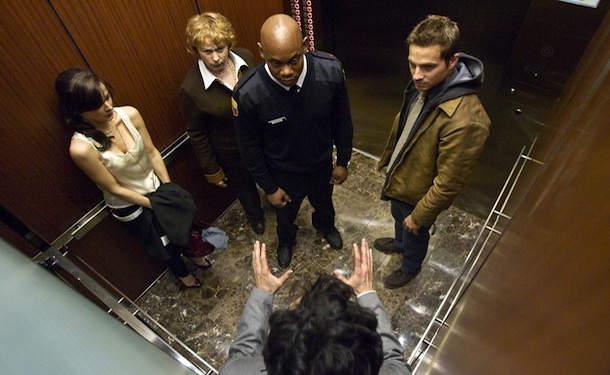 Posted by Matt Singer on
The new film from the mind of M. Night Shyamalan gets at some of the fundamental questions of the human experience. What should you do, for example, if you're trapped in an elevator and the lights go out and a guy who might be the Morning Star bites you? Vulture's Edith Zimmerman got the answer from Dilip Rangnekar, the director of communications for Otis, an elevator manufacturing company. It's an illuminating interview:
What if you have evidence that a demon is sharing the elevator with you?

Do you believe in the paranormal?

No.
Me neither.

But what if it happened?
If you've got, so to speak, the devil inside the elevator, press the call button. Call Otis. You're trying to make this fun, I can understand that. But I've never heard of anything like this.
Phew. I feel better already. Then again, this guy is a paid spokesman for the elevator industry. How can we be sure he's not part of some massive conspiracy to keep the epidemic of elevator torturing demons secret? Maybe Otis is in on it! Maybe everyone's in it on! And maybe they're all ghosts!
Sorry, sorry, I'm okay. I just let Shyamalan get the better of me sometimes. Be sure to go to Vulture for the full interview. And for goodness sake people, stay mindful of where those elevator call buttons are.