The "Afterschool" Special, Amanda Seyfried x2 and More New on DVD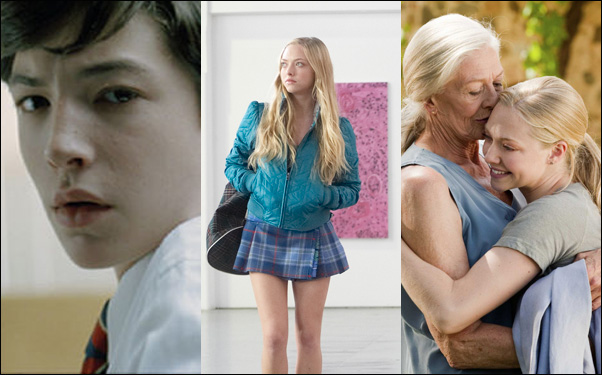 Posted by Stephen Saito on
A look at what's new on DVD today:
"Afterschool" (2009)
Directed by Antonio Campos
Released by MPI Home Video
Nominated for an Independent Spirit Award for Best First Feature, Campos' polarizing debut stars Ezra Miller as a high schooler whose AV club assignment leads him to capture the drug-induced deaths of two of his popular prep school classmates. [Sam Adams' review of the film is here.]
"All Men Are Brothers" (1975) and "Return of the 5 Deadly Venoms" (1978)
Directed by Chang Cheh and Wu Ma/Chang Cheh
Released by Well Go USA
Well Go USA do long-suffering American kung fu fans a solid and finally release "All Men Are Brothers," the sequel to the Shaw Brothers' epic "Seven Blows of the Dragon" (a.k.a. "Water Margin") featuring David Chiang and Chen Kuan-tai as warriors battling against the tyranny of despots, and "Return of the 5 Deadly Venoms," which pits Shaw brothers favorites' the Venom Mob against the master that crippled them.
"The Black Cauldron" (1985)
Directed by Ted Berman and Richard Rich
Released by Disney
Once considered a black mark on Disney when it was a box office failure in 1985, the company is now celebrating the 25th anniversary of this hero's journey of a farmboy who must retrieve a prized pig to prevent the rise of a league of undead warriors. The new disc includes a new deleted scene, notable since the film was trimmed during its initial release after being the first Disney film to receive a PG.
"Boogie Woogie" (2009)
Directed by Duncan Ward
Released by MPI Home Video
Ward sends up the art world with an all-star cast including Danny Huston, Gillian Anderson, Amanda Seyfried, Alan Cumming, Heather Graham and more battling it out in London's fierce gallery scene. [Aaron Hillis' interview with star Danny Huston is here and Bilge Ebiri's review of the film is here.]
"Casino Jack and the United States of Money" (2010)
Directed by Alex Gibney
Released by Magnolia Pictures
Oscar-winning "Enron: The Smartest Guy in the Room" director Gibney ruffles some feathers with all the Washington higher-ups included in this look at disgraced lobbyist Jack Abramoff's rise within the Republican Party as a trusted operative and bagman, including former U.S. representatives Bob Ney and Tom DeLay, who both sit down for interviews.
"Just Wright" (2010)
Directed by Sanaa Hamri
Released by Fox Home Entertainment
"Something New" director Hamri helms this romantic comedy about a physical therapist (Latifah) who starts to have feelings for her patient (Common), a New Jersey Nets star whose recent knee injury threatens his career. Unfortunately for her, he starts up a relationship with her best friend (Patton) first. One can expect true love will find a way, but even with the NBA's blessing, just don't expect true b-ball action.
"Letters to Juliet" (2010)
Directed by Gary Winick
Released by Summit Entertainment
Amanda Seyfried makes her second appearance on DVD shelves this week with this light romantic comedy from "13 Going on 30" director Winick about a young woman who travels to Verona with her foodie boyfriend (Gael Garcia Bernal) and helps out a fellow tourist (Vanessa Redgrave) find a lover from decades earlier.
"Looking for Eric" (2009)
Directed by Ken Loach
Released by MPI Home Video
Soccer star Eric Cantona is featured in "Wind That Shakes the Barley" director Loach's comedy as the life coach to a down-on-his-luck Manchester United fan and mailman (Evets) who is trying to recapture some of the old magic with one of his former flames. [Matt Zoller Seitz's review of the film is here.]
"Madchen in Uniform" (1958)
Directed by Géza von Radványi
Released by Wolfe Video
Romy Schneider stars as a boarding school student who falls for her female teacher in this 1958 German remake of a 1931 classics that has largely been out of public rotation since it was brought overseas in 1965.
"My Son, My Son, What Have Ye Done" (2010)
Directed by Werner Herzog
Released by First Look Studios
David Lynch executive produced this drama based on the true story of a murderer, played by Michael Shannon, who killed his mother after being inspired by the Greek tragedy "Oresteia." Chloë Sevigny, Udo Kier, Grace Zabriskie, Michael Pena and Willem Dafoe are on hand to fill out the cast. [Aaron Hillis and Bilge Ebiri have interviews with Herzog.]
"The Next Hit" (2008)
Directed by Antwan Smith
Released by Lionsgate
Flo Rida and Rick Ross lend street cred to this thriller set in the world of Miami hip hop where a rap label takes advantage of the death of one of the artists for bigger posthumous sales, amid growing suspicion that they might've been responsible for his death.
"Outrage" (2010)
Directed by Ace Cruz
Released by Phase 4 Films
Make it three weeks in a row for Michael Madsen direct-to-DVD debuts (and amazingly the first we've mentioned that was produced in his "magical" 2009). Here, he plays an ex-military sniper who decides to make some urban visitors (including Natasha Lyonne) his prey in the woods of Georgia.
"The Penitent Man" (2010)
Directed by Nicholas Gyeney
Released by Synergetic Distribution
A selection of this year's Seattle Film Festival, "The Penitent Man" stars Lance Henriksen as a man who claims to be from the future, which confounds his put-upon psychiatrist (Lathrop Walker) who wonders whether his patient is actually telling the truth and how that might affect his own life.
"Prince of Persia: The Sands of Time" (2010)
Directed by Mike Newell
Released by Disney
Jake Gyllenhaal shows off his tanned abs as a prince who, with the help of former Bond girl Gemma Arterton, must seize a dagger with the potential to turn back time from a mustache-twirling Ben Kingsley in this Jerry Bruckheimer-produced summer diversion that got the thumbs up from our resident game expert Evan Narcisse.
"Princess Ka'iulani" (2009)
Directed by Marc Forby
Released by Roadside Attractions
Four years after beating out countless actresses to play Pocahontas in Terrence Malick's "The New World," Kilcher reintroduces herself to audiences once more as the half-Hawaiian, half-Scottish crown princess who fought against U.S. annexation of Hawaii after the islands' kingdom was overthrown in 1893. Longtime producer Forby ("Prom Night") makes his directorial debut on this $9 million production that stirred controversy and won an audience award when it premiered at the Hawaiian Film Festival last year. [Matt Zoller Seitz's review is here.]
"Raging Phoenix" (2009)
Directed by Rashane Limtrakul
Released by Magnet Releasing
A martial arts flick from Thailand, Jeeja Yanin follows up her star turn in "Ong Bak" helmer Prachya Pinkaew's "Chocolate" as yet another woman done wrong who fights back.
"Starcrash" (1978)
Directed by Luigi Cozzi
Released by Shout! Factory
This Roger Corman-produced sci-fi extravaganza arrives on Blu-ray for the first time where this cult classic and the exploits of Caroline Munro's bikini-clad space ranger Stella Star might best be appreciated. David Hasselhoff and Christopher Plummer co-star.
"Stiffs" (2010)
Directed by Frank Ciota
Released by Monterey Video
Danny Aiello plays a hearse driver who drums up business for his mob-owned funeral parlor by bringing in some unwilling customers in this comedy. Mafia flick staples Jon Polito and Frank Vincent, as well as Lesley Ann Warren co-star.
"The Twenty" (2009)
Directed by Chopper Bernet
Released by Osiris Entertainment
If you thought this was a remake of the 1993 Brendan Fraser drama "Twenty Bucks," you wouldn't be so far off as Bernet gathers an ensemble including Clancy Brown, Laraine Newman and Lisa Darr to surround himself with as an alcoholic who finds a message on the back of a $20 bill that sends him on a road to recovery that isn't necessarily what his friends and family had in mind.
"Under Still Waters" (2008)
Directed by Carolyn Miller
Released by MPI Home Video
The Newport Beach Film Festival bestowed a Best Actress prize to Lake Bell for this thriller from first-time director Miller about a married couple (Bell and Jason Clarke) who seek some R & R in the woods before finding their vacation derailed by a stranger (Clifton Collins Jr.) they nearly hit on the road.
Also making their first appearance on Blu-ray: The Jean Claude Van Damme double feature "Bloodsport/Timecop," Jean-Luc Godard's "Breathless," Stanley Donen's "Charade" (Criterion), Jean-Pierre Jeunet's "Delicatessen," the horror flick "Feast," Phillip Kaufman's "1978 remake of "Invasion of the Body Snatchers," Adrian Lyne's "Jacob's Ladder," "Lord of the Rings" (available separately), Richard Fleicher's controversial "Mandingo," a 3D Blu-ray of "Monster House," Heath Ledger's "The Order," "Return of the Living Dead," "Se7en," the non-Criterion re-release of "The Third Man," Jet Li's "Unleashed"
[Additional photos: "Casino Jack and the United States of Money," Magnolia Pictures, 2010; "My Son My Son What Have Ye Done," First Look Studios, 2009; "Princess Ka'iulani," Roadside Attractions, 2010; "Under Still Waters," IFC Films, 2008]