Álex de la Iglesia Isn't Clowning Around at Fantastic Fest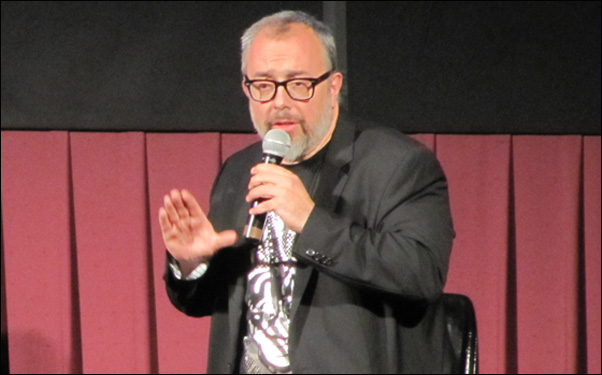 Posted by Stephen Saito on
"I really hate clowns," Álex de la Iglesia admitted mere moments into his introduction for "The Last Circus" (or "Balada Triste de Trompeta," which translates to "Ballad of the Sad Trumpet") his epic, darkly comic story of two clowns who fight for the love of an acrobat during the tumultuous era of fascism that followed the Spanish Civil War. Joined by Carolina Bang who plays the object of the clowns' affection, de la Iglesia made the rare trip to the States for Fantastic Fest co-founder Harry Knowles, who geeked out while telling how he was first introduced to the director's work when someone slipped him a sixth generation VHS copy of de la Iglesia's "Day of the Beast." He even added that de la Iglesia had an inadvertent hand in creating Fantastic Fest since it was after a screening of "800 Bullets" in Sitges that he and Tim League first discussed the idea of a genre festival in Austin.
Greeting Knowles with a hug, de la Iglesia was far less gracious when discussing clowns, to the delight of the audience. "My father took me to the circus in some dirty place. It always smelled bad," de la Iglesia said. "[I would wonder] why are these guys so desperate? The red nose in the middle of the face? He's a fucking alcoholic. The big shoes, why?" He went on to wonder aloud why there was always a sad clown — "why is he there if he's not funny?"
In "The Last Circus," the sad clown Javier (Carlos Areces) has a purpose, assigned to his lot in life after coming from a long line of funny clowns that ends when his father explains to him that he's seen too much tragedy in his life to be funny, only minutes before his execution at the hands of a general in Franco's army. Next thing you know, it's 1973 in Madrid and Javier is putting on bushy eyebrows and a single black teardrop down his face to perform in circus where he meets the beautiful and dangerous Natalia (Bang), who descends from the heavens twirling on a red ribbon and winds up being Javier's one-way ticket to hell when the two strike up an easy friendship and her jealous, abusive boyfriend Sergio (Antonio de la Torre) turns out to be the funny clown to his sad one. Upon their introduction, Sergio tells Javier if he weren't a clown, "I'd be a murderer."
De la Iglesia has been down this road of violent one-upsmanship before with 1999's "Dying of Laughter," but in weaving in actual historical events like the assassination of Blanco during the counter-cultural revolution, "The Last Circus" is one of his broadest films to date, both in terms of scope and its humor, which pulls no punches in showing a nude Javier stripping the bones of a dead deer carcass clean while hiding from Sergio in the forest or basking in the grandeur of a war sequence involving circus performers that is usually reserved for a Spielberg-Hanks World War II miniseries. Fans of de la Iglesia will appreciate that his wild streak is back after the more serious-minded "The Oxford Murders," and while some might not spark to his occasionally outrageous sensibilities and asides, I found "The Last Circus" benefitted from a second viewing where I wasn't quite as caught up in his always clever visuals (he is shooting in and around a circus, after all), which allowed the story and political subtext to shine through.
"I don't want to transplant my life onto my country's experience," said de la Iglesia, during the post-screening Q & A in a rare moment of seriousness. "But I believe everyone in Spain has some pain and we need to talk about it. That's why I made the movie."
The mood was considerably lighter during his introduction to the film when he explained the inspiration for the story that pitted a sad clown against a funny one — "With age, I've learned one cannot laugh if somebody else is not suffering" — and subsequently put the onus on the audience: "The only way we can have fun here is if we know others are suffering." (He plunged the dagger in when he added, "With the money that was spent making this movie, lives could've been saved.")
Following the screening, Knowles pressed him on a variety of subjects and was joined by the audience in asking about his next project ("a small drama in Spain about a man who is immobilized by an accident and cannot be moved"), his and Knowles' shared obsession with the death of Gwen Stacy in the "Spider-Man" comic books that served as a template for a scene in "The Last Circus" ("It is something that traumatized me my whole life," said de la Iglesia) and his reaction to people who felt his English-language diversion "The Oxford Murders" was a departure from his previous work ("People say it's not like you. Well, who am I?").
Knowles wasted no time in asking de la Iglesia for a return visit to Austin for a career retrospective, to which the director was at least publicly noncommittal, but it was clearly a good night for de la Iglesia, who was only weeks removed from winning the Silver Lion and an Osella for best screenplay in Venice for the film. As he growled before the curtains raised on the film, "Let's enjoy being bad."
"The Last Circus" will be distributed next year in the U.S. by Magnolia Pictures.