A Worthy Cause: Help Support Babycastles, NYC's Indie Game Arcade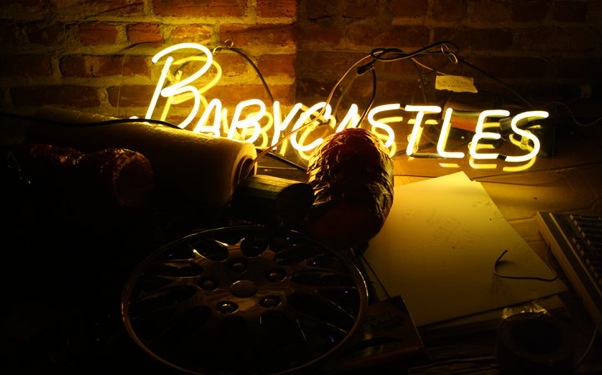 Posted by Evan Narcisse on
Arcades don't exist anymore. What's worse: They're kinda hard to even remember, for those of us who used to put quarters up. (I know that's difficult to admit, so just let it sink in.)
But, more than the thrill of actually playing "Pac-Man," "Street Fighter" or "Paperboy," the thing that arcades fostered was a social experience around games. That's gotten lost as the video games business transitioned to home consoles and personal computers.
But, the arcade experience is coming back in the unlikeliest way on an unassuming street in Ridgewood, Queens. In a rundown live/work space that doubles as the Silent Barn music venue, twentysomethings Kunal Gupta, Syed Salahuddin, and Arthur Ward founded Babycastles, a basement speakeasy that showcases new and experimental games by upstart indie developers. The venue usually showcases work by talent that aren't quite well-known yet, but they've also played host to art game creator Mark Essen, aka Messhof and Independent Game Festival winner Jonatan Soderstrom, better known as Cactus.
When I went to Babycastles earlier this month, they were opening up an exhibit of Christian-themed games and I got to play "Super 3D Noah's Ark," a re-skinned version the classic "Wolfenstein 3D" set inside Noah's Ark, where I had to lob fruit to feed hungry animals. Also on hand were "The You Testament," an action role-playing game set in the time of Jesus that casts players as a lost disciple who must resist attempts to goad him into violence. Babycastles seethes with DIY-ness: the games where set up in handmade cabinet stations, festooned with handmade signage, and everything from the sound system to second-hand PCs the games ran on gets appropriated by way of salvage or donation. As weird and accidentally compelling as the games assembled were, I wouldn't have been able to play them–and more importantly, discuss them–outside of Babycastles. Both the underground indie scene and the social element around games needs nuturing and the Babycastles team is trying its best.
Now, the indie-centric crew is getting ready to set up a pop-up arcade just a stone's throw from Grand Central Station, set to open on October 8th. There's a need for financial support, though, and they've started a Kickstarter page to drum up support. Though they've already met their funding goal, every extra dollar helps the new exhibit be that much more awesome. Your money will be well-spent, as the upcoming pop-up will house work from the Experimental Gameplay Workshop, the Independent Games Festival, Eric Zimmerman & Natalie Pozzi and Eddo Stern, just to name a few. Check out the Kickstarter page for the full rundown of cool-ass games and developers who'll be contributing and then open up your wallet to help Babycastles out. And, if you're in New York, stop by for a gameplay experience that you can't get a couch or a desk.