A Star Melanie Griffith Movie Double Feature Day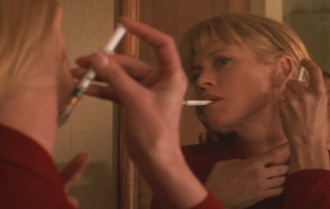 Posted by Melissa Locker on
Today's double feature stars none other than Hollywood royalty, Melanie Griffith. Daughter of Tippi Hedren of Alfred Hitchcock fame and producer Peter Griffith, Melanie Griffith was a wildly hot commodity in the 80s and early 90s. She was such an A-List celebrity she was even married to Don Johnson. Twice. She was nominated for an Oscar and won a Golden Globe for her role as a sassy cubicle jockey in Working Girl. Time has passed, roles have become more elusive, she has struggled with substance abuse. Now the actress has settled in with actor Antonio Banderas (hello, trading up) and dropped off the radar a bit. Her star has dimmed, but, since everything from the 80s is making a comeback, can it be too long before Melanie Griffith is in high demand again? You heard it hear first. To jumpstart her return to stardom, we are showing a Melanie Griffith double feature tonight.
After scaring the pants off of parents and receiving much critical acclaim for his first feature film Kids, writer and director Larry Clark followed up with Another Day in Paradise. Similar in some ways to Drugstore Cowboy, the film follows a loose-knit family of drug-addicted criminals in a disturbing downward spiral in the Midwest in the 1970s. Melanie Griffith stars as drug dealer James Woods desperately melancholy girlfriend, Sid. She and Woods try to help (er…abet) his nephew (Vincent Kartheiser) and girlfriend (Natasha Gregson Wagner), but they all get sucked into a messy crime spree with tragic results.
Following the dismal decline documented in Another Day in Paradise, comes a film ripe for joyful ribbing and good-natured mocking. Fear City has all the trappings of a cult classic: strippers, martial arts, Lando Calrissian, lipstick lesbians, a serial killer on the loose, and Rae Dawn Chong. Tom Berenger–who really used to be somebody and had the feathered hair to prove it–stars as a pimp/nightclub owner who is sick of his girls getting murdered. Billy Dee Williams is a cop determined to catch the sick freak stalking the streets of Manhattan and terrorizing the law-abiding citizens. Also, the not law-abiding citizens. Our featured star, Melanie Griffith stars as a different kind of working girl. She is a fresh faced stripper inexplicably named Loretta who has stolen the secretly golden heart of her pimp. Her hair alone is worth the price of admission and the icing on the cake is her love scene with 80s queen Rae Dawn Chong.
Here's the rather brilliant trailer for Fear City and don't worry about forgetting the feature's title, they say it about twelve times:
Another Day in Paradise starts at 8 p.m. ET and Fear City follows at 9:45 p.m. ET