World of Perfume Advertising Not Notably Improved By Addition of Frank Miller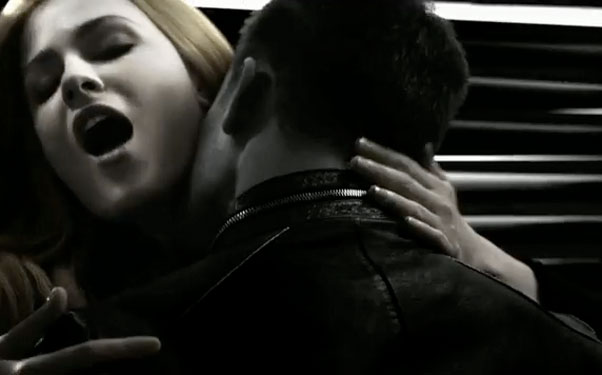 Posted by Alison Willmore on
Frank Miller, the comic book creator turned "Sin City" codirector, has a new ad for Gucci Guilty — starring Evan Rachel Wood, Chris Evans, the music of Friendly Fires and a greenscreen — that's apparently so momentous that it warranted its own trailer. Presumably there'll be a longer cut of the ad due out as well, because the official version released today isn't any longer than that teaser, a mix of stylized sex, stilettos and driving while on fire.
While describing a film as looking like a perfume ad is rarely intended as a complement, it's not unheard of for a notable perfume ad to look like a film. High-end fragrance commercials have a habit of handing over a chunk of change to an established director and turning them loose to do their thing. And the results can be interesting, someone's auteurist signature compressed into something as concentrated as, well, eau de parfum. No less than Martin Scorsese will be next up in this industry with ad/short "Bleu de Chanel," featuring Gaspard Ulliel, due out next month. A trailer for that Updated: Here's the full ad:
Here's Jean-Pierre Jeunet's Chanel No. 5 spot/short from last year "Train de Nuit," with Audrey Tautou, a series missed connections, an overnight train and a Billie Holiday track:
Also from 2009 is this strange contribution for Flora by Gucci from Chris Cunningham, best know for his uniquely disturbing music videos for Aphex Twin, set to a ghostly version of "I Feel Love" and more like a nightmare about a perfume commercial than a commercial itself.
Sofia Coppola's 2008 Miss Dior Chérie ad is set to Brigitte Bardot's "Moi Je Joue" and is a giddy montage of pink, pastries, Paris and balloons.
David Lynch's 2007 commercial for Gucci by Gucci, featuring models dancing snakily to Blondie's "Heart of Glass," is, like Cunningham's ad, more subversively creepy than alluring:
And of course there's Baz Luhrmann's 2004 "N° 5 the Film," for Chanel N° 5 and starring Nicole Kidman and Rodrigo Santoro, was reportedly one of the most expensive ads of all time.