Revived and Derived: "Freaks and Geeks" Ep. 9, "We've Got Spirit"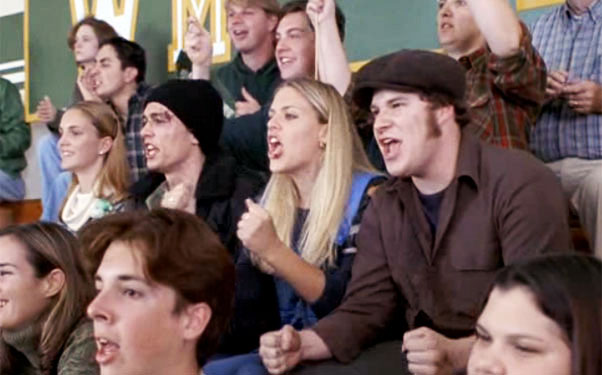 Posted by Matt Singer on
"Freaks and Geeks" is now airing on IFC, and we thought we'd take this opportunity to revisit the show that launched a thousand bromance movies. Every week, Matt Singer and Alison Willmore will be offering their thoughts on that night's episode.
Episode 9
We've Got Spirit
Directed by Danny Leiner
Written by Mike White
"Cheerleaders have to date athletes. It's the law." — Neal
Matt: The stories of "Freaks and Geeks" are stories of the high school underclass. But with "We've Got Spirit," the tenuous armistice that's held for eight episodes between the burnouts and dweebs and their social betters erupts into full-blown class warfare. The athletically indifferent freaks discover their school spirit during a series of skirmishes — water balloons, spray paint, fist fights — with jocks from rival school Lincoln High (we can tell they're not freaks by their varsity jackets).
Meanwhile, Sam becomes the McKinley High mascot in an attempt to climb the social ladder from geek to jock, thereby putting the lie to the unwritten but rigidly enforced law Neal explains above. In typical "Freaks and Geeks" fashion, who gets the only happy ending in sight? The star player on the basketball team.
That star player would be Todd Schellinger, whose prowess with women was legendary on "Freaks and Geeks" before he ever appeared in an episode. Weeks ago, Sam and the geeks speculated about Todd and his mystifying habit of taking off his shirt when he makes out with girls. When we finally meet him, Todd, as played by the short, slight Riley Smith, doesn't seem like much of a lothario — he's barely taller than Sam. He doesn't look like much of a big man on campus, and he doesn't act like one either; as the big game against McKinley is about to begin, Sam finds a nervous Todd puking his guts out in the locker room. This, too, is in typical "Freaks and Geeks" fashion, where even the coolest of characters is revealed as just as damaged and imperfect as the rest of us.
It's that moment in the locker room that makes Sam — and those of us in the audience who identify with him — reassess his hatred of Todd. Prior to that, Sam despised Todd without knowing anything about him for two simple reasons: because he was a popular jock and because his crush, Cindy Sanders, liked Todd because he was a popular jock. After Cindy discovers that Todd likes her back, and shares the news with Sam, he explodes at her in a jealous rage. "Todd's a jerk!" he says. "He's not even nice to you! He's all cocky…it's just stupid that you like him. I mean just because you're a cheerleader and he's a jock, it's so obvious!"
Sam is in a position to witness Cindy and Todd's first kiss because he's assumed the mantle — not to mention the freakishly large, disturbingly detailed, and utterly hilarious head — of the McKinley High Norseman, the school mascot. And as her non-threatening male friend and confidant, Sam has sort of become Cindy's mascot too. And any geek who played that role for a pretty girl who was out of their league in high school knows where Sam is coming from in that tirade. For Sam, Cindy's feelings for Todd are all the more frustrating after the small but crucial victory he'd achieved earlier in the episode, winning the mascot contest and earning an affectionate hug from Cindy. But Sam only won the battle, not the war.
War imagery is everywhere in "We've Got Spirit," from the "Assassinate Lincoln!" banners in the halls of McKinley to the book of Korean War history Mr. Weir is reading. The name of that book, by the way, is "Conflict," and this episode has plenty of it: between lovers and friends, between opposing basketball teams and jealous cheerleaders on the same pep squad. But there's also one important character who's intentionally avoiding conflict. That would be Lindsay, who repeatedly puts off her breakup with the perpetually stoned and increasingly creepy Nick. That leads to a scene that rivals the infamous audition sequence from "I'm With the Band" for sheer discomfort: Mrs. Weir accidentally dumps her daughter's boyfriend for her. Alison, I know you squirmed mightily at the sight of Nick blowing his audition with Dimension. But does Mrs. Weir's "Oops!" with Nick top it? It does for me.
Alison: First, I should point out that I think you're sorely underestimating Todd Schellinger's charms — for one thing, given the whims of adolescent growth spurts, getting picky about a guy's height isn't a luxury afforded many high school girls. And who could resist that magnificent head of feathered hair?
As for the "Oops!" scene, it's incredibly painful — there's no debate that Jason Segel is the king of the uncomfortable in this series. What makes it all the more agonizing is how much Jean means well — she's just so excited to be included in Lindsay life ("She confided in me, Harold, and she took my advice!") that she oversteps and commits a serious faux pas. It's hard to imagine a scenario in which your newly ex-significant other's mom stopping by to offer her condolences would be welcome (particularly when you haven't been told about the whole "ex" thing yet), but Jean glows with goodwill as she gives Nick that pat on the arm. The understanding that dawns on Nick's face as she talks — it's like a slow motion car accident.
Jean does, at least, manage to leave Nick with some dignity, as he's able to preemptively break up with Lindsay before circumstances finally force her to step up and be honest with him after an episode-worth of avoidance. And while the relationship being over is all Lindsay's wanted since it basically began, she still ends up crying in her mother's arms. Rejection always stings.
That breakup, and Nick's quiet solo grieving in the car — set to The Who's "The Song Is Over" — seem like the show's own way of giving the character some of his dignity back. And it's needed, because wow, does Nick come across as a bunny-boiler in this episode. I'd say that the creepy, suffocating sweetness of the "Lady" segment in "Girlfriends and Boyfriends" might actually be bested by the one here in which Nick turns up outside Lindsay's bedroom window in the middle of the night — not even in search of some nookie, just because, as he explains to an unwelcoming Lindsay, he "had to see your face."
Then there are the freaks' horrified reactions when Lindsay tells them she's considering ending things with Nick, prefaced by a nice Kim moment in which she yells at Ken "Don't be such a pig!" when he asks if Lindsay's pregnant, only to ask "so, are you pregnant?" as soon as they're out of earshot. And there's Lindsay's gumshoe work with Nick's previous girlfriend Heidi Henderson (Samantha Shelton), the one whose face he's cut out of photos, who calls Nick "crazy" and tells Lindsay that "breaking up with him is like a nightmare," only to scurry away in terror when Nick arrives, accompanied by an ominous thrum in the soundtrack.
After so much horror movie set-up, to see Nick act like such a grown-up and not Glenn Close at the end isn't just a relief, it's a reminder of the generosity underlying all of "Freaks and Geeks." It may be a series rife with humiliations and minor tragedies, as were many of our high school experiences, but it's also unfailingly honest. Nick is ridiculous, but he's not a caricature or an easy joke. That's also the takeaway of the scene you pointed out, Matt, in which Sam spies Todd throwing up. Even when Sam's determined to see him as just another jock, the show refuses to take that easy route, and gives us a glimpse of someone whose inner life is obviously not as straightforward and trouble-free as Sam would like to believe.
Speaking of Sam, what did you make of his mascot work (under the stern eye of Vicki Appleby (Joanna Garcia)) versus the clowning Neal obviously feels he was born to do? And what'd you think of little Shia LaBeouf as the injured previous mascot Herbert?