Vincent Cassel's Drive to Be "Enemy #1"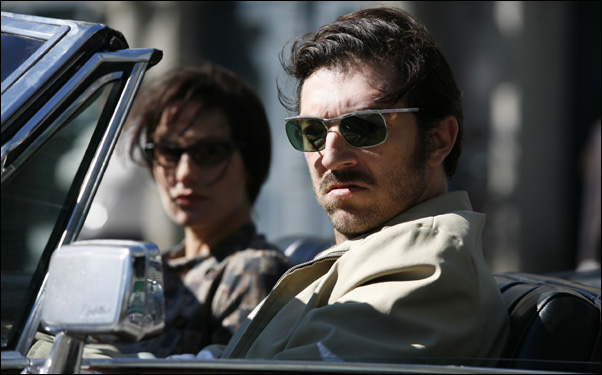 Posted by Bilge Ebiri on
It would have been easy for Vincent Cassel to become a glamorous movie star early on in life — as the talented son of the French actor Jean-Pierre Cassel, he could have just waited for the leading man roles to come to him. "There was a path for me early on," says the 43-year-old actor. "A very clear path. I would have been these jeune premieres, these romantic leads. And I totally refused it."
Instead, the younger Cassel took a variety of darker, more diverse roles — most notably as a young skinhead in Mathieu Kassovitz's breakthrough feature "La Haine (Hate)." In the process, he became identified with unhinged, physical, often brutish characters — in films like Jan Kounen's "Dobermann" and Gaspar Noé's "Irreversible." (It carried over to Hollywood as well, with parts in films like "Ocean's Twelve" and "Eastern Promises.") And it could be argued that Cassel has become an even bigger star today than he might have been had he played it safe.
So it seems like a no-brainer that he would have been cast as the lead in Jean-François Richet's two-part crime thriller "Mesrine," an epic look at the career of France's most notorious criminal Jacques Mesrine. But Cassel actually notes that he was ambivalent about the character at first, because of the way Mesrine's crimes had been romanticized over the years: "I wanted to make sure that viewers understood he wasn't this great guy," the actor says.
The result is Cassel's most ambitious role to date, and it's easy to see why he won a César Award for his performance — over the four-plus hours of the two films ("Mesrine: Killer Instinct" and "Mesrine: Public Enemy #1"), the actor has to hold our attention, win our sympathies, disgust and outrage us, and still leave us fascinated by this complex and brutish character. The surprisingly soft-spoken Cassel sat down with us during a recent visit to New York to discuss this movie and his career.
This film came out in France almost two years ago. It's taken a while to get it released stateside.
By this point, I guess that's normal, because it took a while to make the movie, too. Between the time producer Thomas Langmann told me about it for the first time to the moment we released it in France, it took seven years. Then we released it all over the world, but the financial crisis hit the market so hard, we lost the distributor we had for North America. So then it took a while to find another one. But I really fought for the movie to be released in America. And there was no way we could have cut it down from two films.
We'd rather have had it not distributed than have it cut down. Why not? It did well in a lot of countries. But it's funny, between "Carlos," and "Baader Meinhof," and "Che," we have these long films revisiting this era. But we started working on this film before this trend started. We also started before this recent trend of biopics in France — before "La Môme" [better known in America as the 2007 Edith Piaf biopic "La Vie En Rose"]. Now, we have "Gainsbourg," and someone wants to do one about Yves Montand. It's a big fad now.
How familiar were audiences with Mesrine before the film?
They don't necessarily know that much about him, but everybody knows the name. Everybody knows that he's a gangster.
So, he's like Dillinger in the U.S.
That's hard for me to say because I didn't know who Dillinger was before I saw the movie "Public Enemies." [laughs] But I was 12 when Mesrine died. And that's the first time I had heard of him. The image of his death was so violent — they literally exposed the body in prime time, in a newsbreak. It was totally insane. From there, I knew who he was in a very superficial way. And growing up, I had lots of friends who were quoting him, they had t-shirts with his face. A lot of rappers and graffiti artists were using his name. But I didn't really care for it.
So when Thomas Langmann asked me if I wanted to play this character, I started to think about him. And something struck me about him, about the fact that he was a racist at first. He started his career by killing two Arabs. But his fanbase was largely second-generation immigrants from North Africa. That was interesting and contradictory. That was also my personal link to the project. Because my fanbase — let's call it that — because of films like "La Haine," comes from the suburbs in France — the projects. I wanted to expose those guys to the reality of their hero.
Do you think they understood it?
It worked. I love to go to real cinemas and sneak in and feel the atmosphere during a film, see how people react or don't react to a film. So I went and watched it with a real audience like that. And the first 20 minutes of the movie, when this guy was making racist jokes and all that, it was tense. It was like when I was watching "True Romance," on 42nd Street, when it was released, watching the Dennis Hopper scene, as he's building up to that racist joke. I was looking around, wondering, "Where is this shit going?" That was great. Because that's when cinema really gets under your skin. You remember an experience like that.
Mesrine has an interesting trajectory in that regard. He starts off as a racist but towards the end he kills a journalist who turns out to have been a racist ex-cop.
And he's ready to engage with the Red Brigades as well. You know, I think Mesrine was a fake for most of his life. He was using justifications for his crimes, but he didn't really believe them. There's a scene where he's interviewed by this girl, and he's mixing in the Red Brigades and talking about Baader Meinhof and the Palestinians. He's pretending to be a political warrior. In a way, I think it's pretty touching. We all have different natures and energy at the beginning, and then we make different life choices and we want to justify those. He's not the first rebel without a cause. But I do think at the end of his life he was maybe ready to use the incredible energy he had for a real cause. And maybe that's why he died, too. He would have been incredibly dangerous if he had done so.
I admired the fact that the film struck a balance between this common, romantic perspective of Mesrine while also revealing him to be a pretty buffoonish character.
Without that, I don't think the movie would have been very interesting. We really wanted to keep all these things in play — despite all the things Mesrine did in his life, he still managed to have a positive image, almost like a Robin Hood, even though he never gave anything back to anybody.
He bought jewels with the money he stole…
Exactly! He was the most capitalistic guy ever, as one of his accomplices tells him. So we couldn't get rid of the bad aspects of him. We had to recreate the same trick — show all the bad things he did, and yet still find a way to get the audience to root for him, even though we also want them to feel guilty for rooting for him. I think we achieved that. The movie never tells you what to think of him. Most of the time when there's so much money involved in making a film, you want to tell people what to think. But with Mesrine, at the end of two films, it becomes less about what we told you to think but who you are as an audience.