Ubisoft Hoping Fans Will "Beat It" in Their New Michael Jackson Game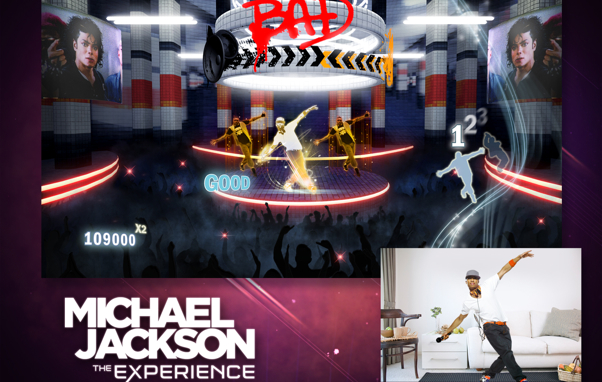 Posted by Evan Narcisse on
One of the weirdest things to come out E3 this year was Ubisoft's surprise announcement that they'd be releasing a Michael Jackson game for the Xbox 360 Kinect motion-sensing camera.
This week, the Gamescom trade fair in Cologne, Germany marks another occasion for companies to trumpet the next stage of their marketing messages. It's basically a German E3 that services all of the Euro nations. Given that the King of Pop was planning his comeback tour across the pond, it's fitting that Ubisoft's chosen Gamescom as the next place to reveal a tiny bit more about "Michael Jackson The Experience."
Their virtual tribute to the Gloved One will involve technology that projects the player onscreen into a simulated stage. You'll be learning the same choreography used by MJ and his dancers, as well as singing along to his impressive solo back catalogue.
And that leads us to the most important aspect of this upcoming venture: the music. Ubi's finally pulled back the curtain on some of the songs licensed for the game. The list so far:
• "Bad"
• "Beat It"
• "Billie Jean"
• "Earth Song"
• "The Girl Is Mine"
• "Who Is It"
• "Workin' Day And Night"
More than any whiz-bang Kinect technology or involvement from the last dancers who worked with the titular performer, it's the music that will be the key element of how this game fares. Every Jackson fan has their song–mine being "Don't Stop 'Til You Get Enough" or "Human Nature"–that exemplifies their favorite moment in the singer's storied career. A spotty song list could be a hazard for a game like this, but one that strives to be comprehensive will be the key to success. The Xbox 360 version of "Michael Jackson The Experience" hits shelves this holiday, with a stripped-down Wii release accompanying it. The game will be an interesting experiment on whether the memorial fervor that's risen and fallen since Jackson's death can be translated into a successful virtualized product.