Trailering: Joaquin Phoenix in "I'm Still Here"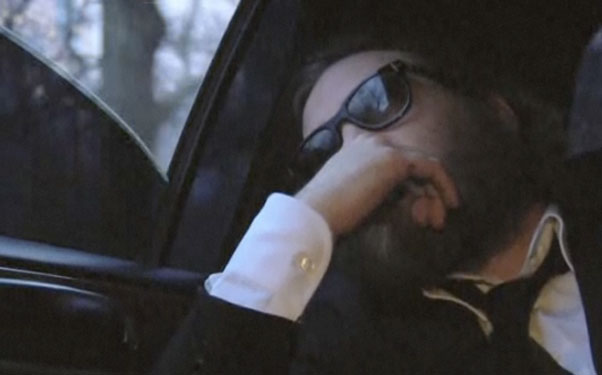 Posted by Alison Willmore on
A quick timeline:
October 27, 2008: Joaquin Phoenix announces to an Extra! correspondent (who's unsure whether or not he's being serious) on the red carpet at a charity event, with brother-in-law Casey Affleck at his side, that he's done with acting. "It's Casey's time now," he says. Affleck notes that Phoenix is moving into music and will be releasing an album.
November 2, 2008: Phoenix reinforces his retirement announcement by appearing at AFI's screening of "Che" with "BYE!" and "GOOD" written (in that order) on his knuckles.
January 16, 2009: Hollywood Reporter notes that Affleck is making a doc about Phoenix's transition to music. That night, Phoenix gives a disastrous rap performance in Vegas in which he manages to fall off the stage. The footage is an instant YouTube hit. Affleck is there filming the event.
January 27, 2009: EW reports that an unnamed source who's worked with Phoenix was told by the (former?) actor that "It's a put-on. I'm going to pretend to have a meltdown and change careers, and Casey is going to film it."
January 28, 2009: Phoenix's rep insists it's all for real.
February 11, 2009: A wildly bearded, sunglasses-wearing Phoenix appears "Letterman," ostensibly to promote "Two Lovers," though his bizarre behavior quickly obliterates any thought of the movie, which is excellent and deserved better:
July 14, 2010: Magnolia buys Affleck's film, now entitled "I'm Still Here" — the press release describes it as "a portrait of an artist at a crossroads," with no mention of whether it's fiction or non.
And now we're arrived at the presumed point of all this scheduled schadenfreude — the trailer for the film, which will premiere at Venice and open in limited release September 10th, is below. For me, the question is whether any (allegedly!) fabricated Hollywood meltdown can possibly hope to measure up to the real ones (I'll put YOU in a rose garden!) we've been taking in in the press lately.