The Tragedies of War: "Letters From Iwo Jima"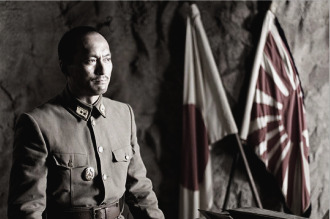 Posted by Melissa Locker on
The companion piece to the searing Flags of Our Fathers, Clint Eastwood's Letters from Iwo Jima offers a harsh, yet beautiful look at the realities of war. The film focuses on Lt. General Tadamichi Kuribayashi, played brilliantly by Ken Watanabe, who is given the luckless task of defending the strategically important barren island of Iwo Jima in the midst of World War II. The story is told via both the unfolding action as well as through the letters the soldiers write home, letters that may never reach their destination.
As you can see in the trailer, Letters from Iwo Jima was filmed in Japanese, with an entirely Japanese cast, and in near black and white to illustrate Japan's version of the battle for Iwo Jima:
Eastwood's Flags of Our Fathers told the story behind the famous photo of American soldiers planting a flag in the middle of battle for the island of Iwo Jima, which was deemed key to the Allies invasion of Japan:
The films were shot simultaneously and released within months of each other. Taken side by side, as complimentary parts of the same war epic, the films are a sobering marvel of war and honor. While Flags of Our Fathers focuses on the symbolism of heroism, Letters from Iwo Jimahones in on the symbols of duty and patriotism in times of war. The films are mesmerizing in their juxtaposition of beauty and graphic violence and clearly establish Clint Eastwood as a brilliant and mature director.
Letters from Iwo Jima airs on IFC at 11:45 p.m. ET.