'The New World': Not Your Mother's American History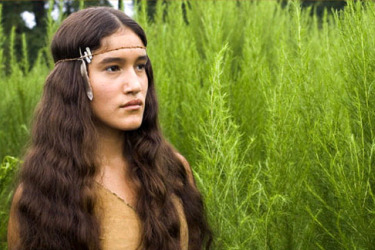 Posted by Melissa Locker on
Writer and director Terrence Malick built a name for himself on the dark, twisted, but mostly true story of Badlands. In that film he cast Martin Sheen as a 25-year old psychopath on a killing spree while his 15-year old girlfriend, Sissy Spacek, twirled her baton in the background. The movie was based on the real life crime spree that haunted the Dakota badlands for years. In Malick's hands the story was a cinematic wonder that was half-In Cold Blood and half-Midwest travelogue. Malick re-surfaced in 1998 with "The Thin Red Line", a look at the WWII bloody battle for Guadalcanal and the stories of the men who fought there.
Three films in thirty years later, Terrence Malick returned to the silver screen with 2005's The New World, a mostly true re-envisioning of the historical meeting of Captain John Smith and Pocahantas. Set in 1607, before the first colonies were established, the film is a riveting account of the trials of Native American and explorers' lives. It's hard to say what is true and what is artistic license. Probably only Howard Zinn would know for sure. But the movie is equally unapologetic towards the actions of all parties.
Colin Farrell stars at the young Captain John Smith who comes to the new world in chains. His wild ways are soothed by the peaceful surroundings of unadulterated nature, as well as by the beautiful Pocahontas, or "Playful One" (Q'orianka Kilcher), the daughter of the omnipotent Chief Powhatan (August Schellenberg). No one is too keen on the match. When Smith has to return to England, Pocahantas is married to Captain John Rolfe, played by Christian Bale, who is hardly a satisfactory replacement for Colin Farrell.
The film is a stunningly beautiful imagining of what were undoubtedly bleak and bloody times for the country soon to be known as America. The film is a truly sweeping epic capturing the landscape of nascent America in mesmerizing colors. There is very little dialogue, which allows the camera to do the bulk of the storytelling work. And with Terrence Malick behind the lens, you want him telling the tale. One thing is clear after watching Badlands, The Thin Red Line, and The New World: Malick should have made more movies.
The New World airs at 4:20 p.m. ET.