The Kids in the Hall Pick Their Top Ten Sketches of All Time: Grand Finale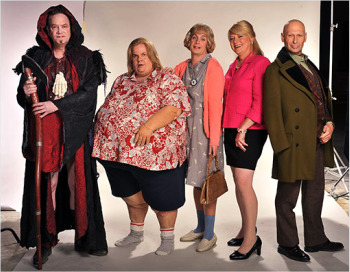 Posted by Melissa Locker on
Tonight, tonight! (That can be sung to the tune of either Smashing Pumpkins or West Side Story, choice is yours.) Tonight, tonight! Death Comes to Town tonight! While that might bring up images of Ingmar Bergman and chessboards, we are, of course, talking about the eight-part miniseries that will mark the return of the Kids in the Hall to American television. Tune in tonight at 10 p.m. ET for back-to-back episodes.
All week we've been counting down the Top Ten sketches as selected by the Kids themselves. Miss something? Watch Part 1, Part 2, Part 3, and Part 4.
The final sketch in our countdown of the Top Ten Kids in the Hall Sketches is (drumroll, please)…Sizzle Sisters!
In this sketch, Kevin and Dave star as Jerry and Jerry Sizzler, two clearly insane guys who think they're lounge singing sisters:
To fan the fires of Kids in the Hall fandom, here is a clip from episode 1 of 'Death Comes to Town'. Tune in tonight at 10 p.m. ET for the full episode.
Was your favorite sketch not in the Top Ten? Tell us in the comments: