The Kids in the Hall Pick Their Top Ten Sketches of All Time, Part 3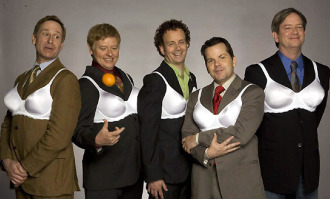 Posted by Melissa Locker on
It's Wednesday, which means only two more days until the Kids in the Hall return to television. Let me hear a heck yeah! As we wile away the hours waiting for the eight-part miniseries 'Death Comes to Town' to kick off, we are counting down the favorite sketches of the Kids in the Hall as chosen by the Kids themselves. HECK YEAH!
Today, since we are bad at math, we have a special hump day surprise: FOUR EPISODES. Who said being crap at division couldn't be fun?
Up first, French Fur Trappers. Kevin and Dave star as Francois and Jacques, French fur trappers who find their game in the richest field possible: The corporate office.
Next, Dipping Areas. Long before Iron Chef made the art of presentation a challenge unto itself, the Kids took a shot at lampooning what goes on inside the kitchen during the preparation of haute cuisine.
Then it's on to Will Do where Kevin McDonald plays Dean, a man with a supernatural ability to just not care, while at the same time eliciting endless patience from others with his amiable nature.
Final installment of our foursome is My Pen. The classic piece where Bruce plays an office drone who is overly attached to a certain office supply.
The Kids in the Hall miniseries Death Comes to Town starts Friday at 10 p.m. ET with back-to-back episodes.