"The Disappearance of Alice Creed," Reviewed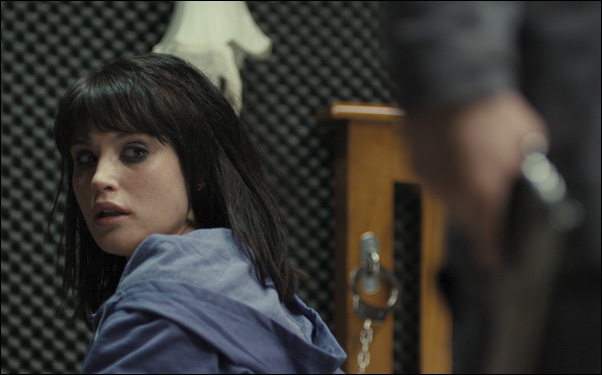 Posted by Stephen Saito on
During the first 15 minutes of "The Disappearance of Alice Creed," writer/director J Blakeson makes clear he's going to spend the next 85 trying to wow you. There are no words spoken between tough guys Eddie Marsan and Martin Compston, only the sound of doors closing, screws being tightened and sandwiches being eaten when they take a break from soundproofing a room that will be used to keep the titular Alice Creed (Gemma Arterton) from knowing her whereabouts while she's held for ransom.
Though there's a £2 million price on her head, the audience is not to know immediately why she's been kidnapped or what exactly is motivating her captors, who proceed to strip her naked, gag her, chain her to a bed and ask her not so politely to relieve herself in a funnel when nature calls. And still, those could be considered minor inconveniences when compared to the torture clearly going through Alice Creed's mind, searching for what she could've done to deserve this and who are these masked men that have kidnapped her.
Omission is a particularly cruel form of psychological terror and it's what Blakeson cleverly plays upon for the dramatic tension in "The Disappearance of Alice Creed," a thriller too nasty to appeal to fans of mass-market potboilers yet too literally bloodless to be filed under horror. Instead, it wields information as a weapon far more threatening than the guns Marsan and Compston's thugs brandish in front of Arterton's Creed, with the trickle of personality traits, past affiliations and present loyalties serving up the torment for the players and twists for those watching.
That it wields that information so bluntly at times can probably be chalked up to Blakeson's immaturity as a storyteller, this being his second film after the direct-to-DVD sequel "The Descent II." As Creed writhes around in fear, sometimes in sweats, sometimes not, for the first act, the build-up fluctuates between intriguingly incendiary and needlessly exploitative, before the pressure of providing the audience with the comfort that they won't be watching a snuff film forces the characters into some situations that don't feel entirely natural.
Yet by giving himself the limitations of a three-person cast in largely one setting, Blakeson is able to take control as things progress past its provocative introduction and benefits greatly from being blissfully free of the plot diversions that so often bring down the energy in thrillers such as these. Blakeson was equally wise to cast the older, pug-faced Marsan ("Happy Go Lucky") opposite the younger, naïve Compston ("Sweet Sixteen"), both of whom are good enough to cut through the film's need for exposition with a single curled upper lip or quizzical glance.
The fact that "The Disappearance of Alice Creed" is held together by great performances sets it apart from whichever genre it'll be invariably lumped into, but it's a testament to its writer/director's investment in creating characters worth caring about that ensures it'll be dragged kicking and screaming towards classification of any kind. And for a film that strives to leave you breathless, that's a breath of fresh air.
"The Disappearance of Alice Creed" is available on demand and now open in New York and Los Angeles.