Talking About "BioShock Infinite," Part 1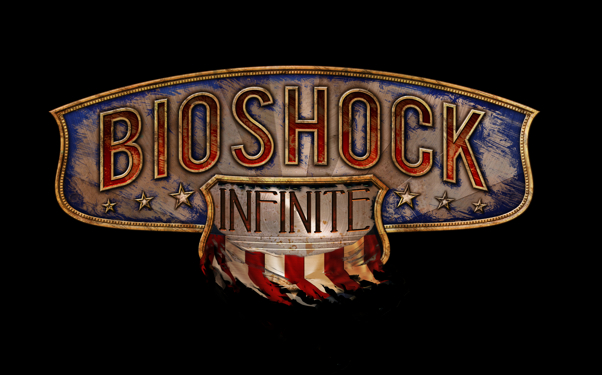 Posted by Evan Narcisse on
This week, the video game world held its breath while waiting to hear what the Irrational Games development studio would be announcing as their next game. Surprisingly, creative lead Ken Levine and his crew are returning to the hallowed "BioShock" franchise. However, they're setting up an all-new experience that leaves the underwater city of Rapture behind and flings players back in time to 1912 and the floating city of Columbia.
Whereas Jack — the hero of "BioShock" — was a mute cipher, "BioShock Infinite" offers a new hero named Booker DeWitt. He's a former Pinkerton agent hired to find a woman named Elizabeth, who's been missing for 15 years. Turns out she's in Columbia, which disappeared into the clouds after an international incident and hasn't been seen in years. While the gameplay bears some similarities to previous "BioShock" games — superpowers in the left hand, guns in the right — "Infinite" looks to tell an all-new story with all-new subtext and metaphors. After the game was revealed last night, Irrational's director of product development Tim Gerritsen spoke about how the drive to reimagine what a sequel means and making turn-of-the-century American exceptionalism manifest into a video game.
We were all speculating as to what this could possibly be before tonight. And, for my part, the last thing I was guessing was more "BioShock." I guess the various subterfuges you guys were pulling worked. Why stick to the "BioShock" branding, when you could have ostensibly called this something else?
After "BioShock," corporate came to us and said, look, what do you guys want to do? They could have said, "You guys go pop out a sequel. Here's your feature list. Go." And they came to us and actually said, "What do you guys want to do?" And we really felt like "BioShock" is more than just a location. And we weren't done exploring that space. But we had said what we wanted to say about Rapture. We were done with that. That's why we didn't do two. And we were like, all right, we want to stay in "BioShock". What do we want to do? Well, let's do something completely different.
We were all like "F— it, no sacred cows, what is a "BioShock" experience about?" And let's explore that space. And the reason we called it "Infinite" was because there were so many infinite possibilities we came up with during the early stages of design. That word became a declarative statement on the nature of "BioShock." What is the experience about? And, to us, in large part, it was about the exploration, the mood, the setting, the narrative, the mystery of what's going on within a location rather than just being about a location. And we knew, if we go back to Rapture, we've already explored that space. One and two are about Rapture and we want to do something completely new.
You talk about "BioShock" as a conceptual space. So what are the pillars, what are the boundaries, what defines that space?
That's really what we are exploring with "Infinite." Part of the discovery process we put in with "Infinite" is that we want the player to help us define that, get that mystery solved as they play. So we don't want to give away too many details. But to us, it's partially that exploration, part of it is that mystery, how the narrative works within that space, immersing you in a setting that is so tightly built that it feels real. Ken [Levine]'s said,"It's not a game about the time, it's a game of the time." So it's something that sets you in that time period. And as a player, you don't have to think about it.
We're not going to give you 20 pages of "In 1902, this is what happened…" because that's not who we are as a company. We wanted to create an entertainment experience. We meticulously research everything you see on the screen, from advertising design of the time frame to the technologies that were available. Obviously, they didn't have flying cities at that time, but everything has to feel real to us. We put so much time and effort in making all those bits come together.
Then we said, "OK, how does that fit into a "BioShock" experience? How do we create that mystery? And how do we change it up?" This time around, you're not just this cypher. In "BioShock," it was "You don't know who you are. You don't know why you're there. No one knows about this setting, it's totally secret." This time, you're a character. You've been given a mission. You've been given a place to go that everybody knows about. But there's still mystery. There's still discovery. So when you get to the world, then that's when it all begins, what's going on.
Rapture is one of the most iconic game locations in the last ten years, but in conceptualizing Columbia, a lot of the tools that you would have used in Rapture go out the window. So how do you build mystery in an open-air environment? You're not in a glass dome anymore.
It was definitely a challenge [and] what the early part of our development was all about. In "BioShock," you're in this claustrophobic setting, where it's like the whole world is crushing in on you at any moment. This game is the opposite. It's about limitless possibility in the big opening expansive space. How do I navigate it? What are the endless opportunities that I have to get around this place? But how do we make it into that same narrative mysterious experience?
Our challenge as developers was to not sit on our laurels and just crank out another game, so our goal is to make something bit as iconic, every bit as new, and every bit as exciting, but in a completely different way.
What are the influences on Columbia? Because I look at it and it reminds me of that Miyazaki movie, "Howl's Flying Castle."
We kind of became enamored of the Columbia exposition in Chicago in 1893, the World's Fair. It was like this pageant of everything that was great in America and everything great in the world. It was America saying, "We're part of the world, too. Let's put it on as a presentation for the world to share." We loved that concept and that feeling. And then we're like, "Okay, but it's a flying city." So how do we combine history and fantasy together? That was the big challenge for us.
With "BioShock", it was about creating December 31st, 1959. That was the central core of the visual. This game, what gelled it for us all, was when Ken [Levine] said, "You know what, this is July 4th, 1900." Conceptually, we're saying the game takes place in 1912, but that was the core moment when we as a team locked the concept. Then we piled on the architectural influences. There's these ad influences, the first motion pictures, the first radio. How does this all blend together and how do we create a world that feels cool and is exciting and interesting, and yet completely alien, the same way that Rapture did.
It seems the environment too is a lot more changeable than it was necessarily in Rapture.
Yeah, absolutely. You're literally on a floating island. So anything can move at any time.
Especially when you have a character like Elisabeth who looks like she can control the weather.
You picked that up? [laughs]
You talk about Columbia being a symbol, both in the fiction and in the real world. For all the optimism and almost arrogance that America had at the time, there was probably a little bit of hesitance, too. Is there a way you can communicate that design-wise?
Honestly, what captivated us was, in that time period, there was this whole sense of technology can fix everything. There's going to be a device for anything and it's all going to be amazing. This is before World War I. So machinery and technology is going to save the world. There was this sense of total optimism. Yet for every brightness, there's a darkness. And the reality is, there was never going to be this "Oh, we flip a switch and suddenly machines make it all better. All the social issues are going to go away." That's not reality. America over the last hundred years has dealt with that. So in the game, that's one of the things that we explore.