Take Note: A Song For "True Blood's" Sookie Stackhouse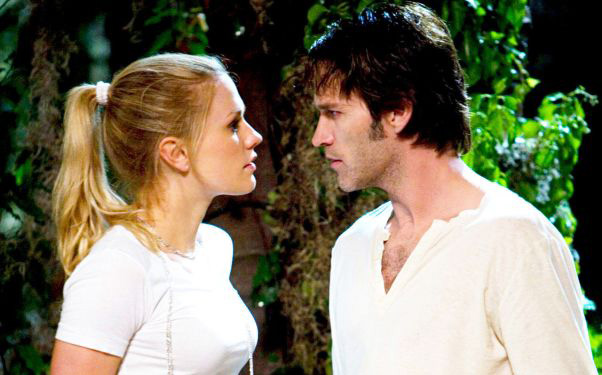 Posted by Brandon Kim on
If I were the music supervisor for HBO's "True Blood," I'd want to stay away from pop for the most part and amp up the creepy swamp vibe with bayou blues and dirty soul, complimenting the show's location. Music supervisor Gary Calamar, veteran of "Weeds," and "Six Feet under," has done exactly that, often employing musicians from Louisiana like Allen Toussaint and C.C. Adcock to lend the series a kick with authentic regional sound.
The show's music has teeth. Everyone knows Jace Everett's "Bad Things" now, the series theme song. Cobra Verde's cover of The Rolling Stones' "Play with Fire" was cool too, though I would still prefer the original. Perhaps it was a budget choice.
"HBO gives us a nice budget but it isn't unlimited," Calamar said in an interview with True Blood-Online. "We always need to keep an eye on the finances. So far I think we have a nice balance."
Clearly, Calamar and creator Alan Ball don't shy away from venturing out from the swamp. The golden throated M. Ward and everyone's favorite Scientology rockstar, Beck, have both been used. The show even did some psychedelic record digging with the 13th Floor Elevators. "I love to find songs that are under the radar to use in the show and help to bring them above the radar," Calamar said about digging. "This works both creatively and financially."
I have a suggestion for Calamar — who is also a KCRW radio DJ, and so I suspect he might even know Unrest's "Suki" if he heard it (spelling doesn't matter when you're only hearing it). It breaks the rules a bit, but as I've pointed out they're already doing that and no other song is so ready made for Sookie and the plight of a sun-shy vampire in love with her.
Listen:

"Suki" by Unrest
An influential indie pop anthem off of Unrest's record, "Imperial f.f.r.r.," written long ago in 1992, the song has absolutely nothing to do with Anna Paquin's lovable character in "True Blood." Songwriter Mark Robinson was probably writing about some feisty Japanese coed, but the lyrics are almost too perfect for the TV spot playing in my head when I think of the show — here changed from "Suki" to Sookie:
I want to be with you all the time / Sookie / I want to lay down in sunshine / Sookie Sookie Sookie….. Kicking kicking / Always night and day / I want to be with you all the time / Sookie Sookie Sookie / I want to lay down in sunshine.
Too cute? Perhaps. But sometimes genius is in the obvious. In this case it's an 18 year old pop song, forgotten but calling out, deep from the bottoms of a dusty record bins in the corners radio stations all over the country.