Spike Lee Wades Back into the "Creek"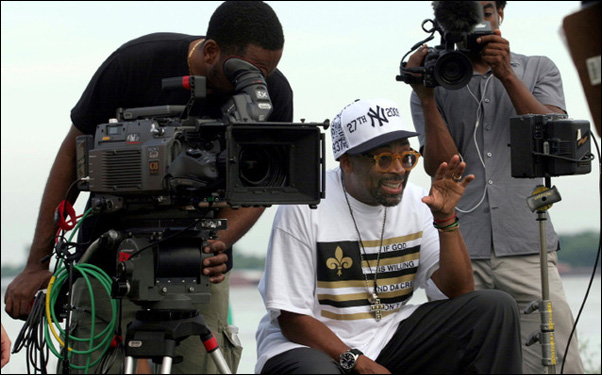 Posted by Aaron Hillis on
After Hurricane Katrina devastated New Orleans, two-time Oscar nominee Spike Lee ("Do the Right Thing") ventured down to the Gulf region to investigate the pre-storm warnings, the wrenching sights of death and ruin, and the soul-crushing aftermath that might've been avoided had the U.S. government responded in a smart and timely manner. Featuring affecting interviews that remain potent four years after Lee's four-hour HBO doc first aired, "When the Levees Broke: A Requiem in Four Acts" seemed to be the definitive take on one of America's worst catastrophes.
But the saints of New Orleans go marching on, and rebuilding a city and its lives hasn't become any easier. In his four-hour update, "If God Is Willing and Da Creek Don't Rise," Lee revisits some of the subjects of his first film (ex-mayor Ray Nagin, former FEMA director Michael Brown, and various residents), scrutinizes the area's housing crisis, finds shocking comparisons to how the Haiti earthquakes were handled, and even sees collective uplift after the New Orleans Saints won the Super Bowl earlier this year. Perhaps most notable is the film's furious and brilliantly argued final hour, a searing takedown of the corruptive forces responsible for the BP oil spill on April 20th. I sat down with Lee to discuss the new film, leveraging celebrity for good, how we can help as individuals, and why he now buys into "hippie, alternative" ideas.
At what point did you know your first four hours weren't going to be the end?
Before we finished "Levees," we knew we would like to come back. I spoke to [HBO president of documentary programming] Sheila Nevins and [HBO co-president] Richard Plepler. They said, "Let's do it." It was just a matter of deciding when. We wanted to come back and see what was happening five years later.
Why five years? Why not sooner or later?
It worked out, though, right? [laughs] The Super Bowl win, and then the whole world turned upside down April 20th. [Super Bowl XLIV] was the first day of filming. I had a NFL Films crew in Miami, and my other crew was in New Orleans filming some of the people watching, then rushed over to the French Quarter for the celebration. Do you like sports?
Not really, but I still felt that palpable sense of how important that win was to the locals.
That's good, if you got that and you're not even a sports guy! [laughs]
It's noteworthy, too, that you frontload with that game since it's the only real levity before you settle back into the harsh reality. Do you feel like that upswing momentum stayed with people?
It wears off eventually. But, yes. People were riding high. People were still floating until April 20th. That's when the whole thing went south. People were euphoric. And then we get kicked in the stomach, hit upside the head, and pushed down a flight of stairs that leads to a window we fall out of. Then you hit the cement!
Then you get run over.
[laughs] That's it! Then you get put in an ambulance, and the ambulance flies off the bridge! That sounds like "Salt," where Angelina jumps from three trucks in a row on the highway. Moving.
In a project this expansive, how do you decide where to even begin?
The story reveals itself. That may sound like a bullshit answer, but it does. You have to understand, our first day of filming, we were shooting the Super Bowl. So we had the ending. We had an upbeat, positive film because spirits were uplifted. The whole city, the whole region was euphoric. Then after April 20th, we knew we were descending. We were going down. This story's still being written.
Journalists were only shown the first and last hours of "If God Be Willing…" What do the second and third hours entail?
We deal with the housing, NOPD, we visit Sean Penn in Haiti, black-on-black crime — black men murdering other young black men. We visit a lot of people we met and love from "Levees."
I understand the correlation between New Orleans and Haiti, but how did that detour come about?
Well, there is a historical link. New Orleans and Port-au-Prince are sister cities. One of our links was Sean Penn, who was in "Levees." He was in New Orleans three days after Hurricane Katrina breached the levees, and he was in Haiti three or four days after the earthquake. He now lives in Haiti. His whole mean is just trying to help his country back to its feet. Historically, it was Toussaint L'Ouverture, who kicked Napoleon in the butt, that led to the French Continental officers selling Louisiana to the United States of America. So it's all intertwined.
Penn has been able to leverage his celebrity to achieve some humanitarian good. With this project, what advantages do you think you had as respected filmmaker Spike Lee?
I think my number one thing that I have — and I'm not trying to boastful — I think a documentary film is only as good as your interviewees. If people don't feel at ease, if people are not going to drop their guard, they're not going to give you what they have inside, their essence and their truth as they know it. You're not going to have a good film if people come to my documentaries and feel they know me already because of my films. They feel that they can trust me, I'm not going to do no crazy shit with the editing and twist their words around. Therefore, it was all love.
Aside from the subject matter, what satisfaction do you get in documentary filmmaking that you don't with your narratives?
For me, I don't really have a delineation in my mind between making a documentary and a feature, a short film, a music video or a commercial. They're all storytelling, so I don't have to change hats, I don't have to change outfits or flip switches. It's just "tell the story." It doesn't trip me up. To answer your question, I get as much satisfaction in documentaries as I do narrative films.