Soundtrack for Sofia Coppola's "Somewhere"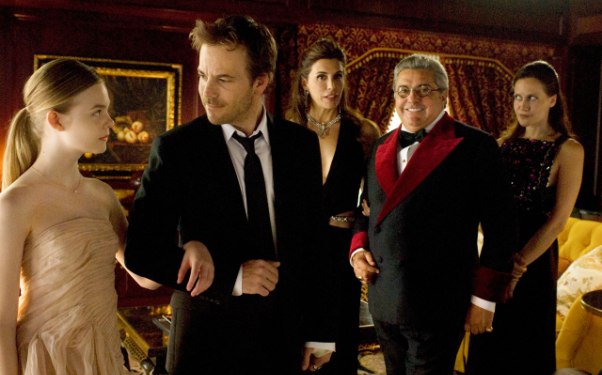 Posted by Brandon Kim on
The soundtrack details for Sofia Coppola's new film "Somewhere" are out and they're as stylish and good looking as the film's stars, Stephen Dorff and Elle Fanning. The decadent helpings of cool include, The Police, T. Rex, Bryan Ferry, and The Strokes. Gwen Stefani, doesn't seem to fit with that list but her song "Cool" is actually listed twice on the soundtrack. Maybe there is a father-daughter sing along rock band version?
Coppola favorites, the French band Phoenix, play the most key role appearing on the soundtrack with a two-parter as well as contributing to the score along with composer William Storkson who also helped out on "Lost in Translation."
Italian distributor, Medusa Film, explains about Phoenix's contributions on their website:
The passage of over seven minutes, divided into two parts, "Love Like A Sunset," has been included on the soundtrack of Sofia Coppola's "Somewhere" along with original music composed specifically for the film.
From what I gleaned there with my rudimentary Italian (and the trailer below) the film follows bad boy actor Johnny Mark, played by Dorff who's living at "the legendary Chateau Marmont" in Hollywood in a "continuous flow of girls and lozenges." His chill way of life is interrupted one day when his 11 year-old daughter Cleo shows up, played by Fanning. Charming and disarming existential reflections follow.
Full track list:
"Love Like a Sunset Part I" – Phoenix
"Ghandi Fix" – William Storkson
"My Hero" – Foo Fighters
"So Lonely" – The Police
"1 Thing" – Amerie
"20th Century Boy" – T.Rex
"Cool" – Gwen Stefani
"Che si fa" – Paolo Jannacci
"Cool" – Gwen Stefani
"Teddy Bear" – Romulo
"Love Theme From Kiss" – Kiss
"I'll Try Anything Once" – The Strokes*
"Look" – Sebastian Tellier
"Smoke Gets In Your Eyes" – Bryan Ferry
"Massage Music" – William Storkson
"Love Like A Sunset Part II" – Phoenix

*That Strokes tune is the one playing in the official trailer, check it out: