"Scott Pilgrim" Gives a Big Level Up to Nerd Culture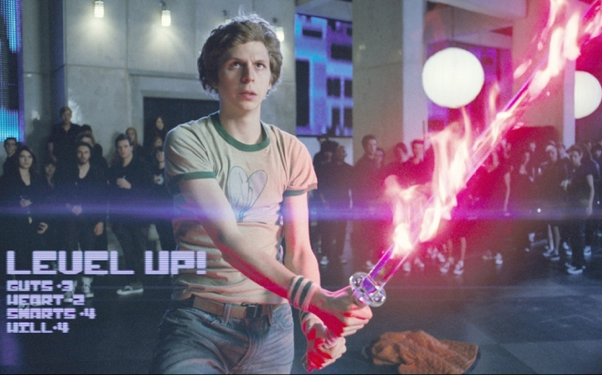 Posted by Evan Narcisse on
I remember when I read the first volume of the "Scott Pilgrim" graphic novels for the first time. "Scott Pilgrim's Precious Little Life" set me up to think that I'd be getting a typical aimless twentysomething slice-of-life story, with some romantic longing thrown in. Hints of weirdness lurked at the fringes but, once the dragon punches and musical showdowns began percolating, you realized that this was going to be some other kind of different and special. O'Malley's big win with the "Scott Pilgrim" books is how they align the plot devices of superhero comics, genre entertainment and/or video games with life's big coming-of-age moments. So, Scott isn't just a lovesick 23-year-old bassist who's gotta deal with a girl's relationship baggage; he's also suddenly unleashing roundhouse kicks against said girl's seven evil exes.
Edgar Wright's adaptation of Bryan Lee O' Malley's award-winning work takes the video game logic dynamic and ramps it up exponentially. From the start, it moves incredibly fast, zipping along into a story centered on the title character's explosion of love for the mysterious girl-of-his dreams Ramona Flowers. It's a film that knows its audience consumes memes by the gallon and throws the "Seinfeld" soundtrack, PC error noises and other recognizable bleeps and bloops of the digital generations to nestle the movie in a fertile framework.
The central question at the heart of the "Scott Pilgrim" universe — in both its movie and book forms — is how to love someone that still might have a little maturing to do. In Pilgrim's world, the way to face up to those flaws is with karate kicks and giant hammers, stand-ins for the frustration, rage and impatience that things aren't the way you want them to be. And it's here that Wright runs into the classic adaptation problem. Where O'Malley spooled out Scott and Ramona's romance over six volumes in six years, Wright tries to smush it into 150 minutes. As fast as the film moves, it takes a lot of goodwill on the audience's part to believe that the story's leads are meant to be together. While I did feel like Scott did have a certain amount of yearning for Mary Elizabeth Winstead's Ramona, it felt more like infatuation than true love.
The true love part for me comes in Wright's approach to bringing comic-book storytelling style to life. Wright uses celluloid to blow out the elements that print couldn't serve well, so the musical band battle sequences get a lot more screen time, helping to create a scrappy, garage-band vibe that readers of the comics could only imagine. In particular, the face-off with Ramona's twin exes gets changed for the better, becoming a soundwave showdown that rocks the house. He also redeems the on-screen sound effect from campiness and there's a ton of other sly little tricks Wright uses, like changing the background while dialogue continues. Almost every frame of the movie engages in some sort of visual punnery and there's no point in trying to count the amount of video game references, considering how deep and ubiquitous they are.
O'Malley used the experiences of old school games as both magical realism and cultural touchstone in his sequential work and Wright deepens that idea by using games and other elements of mainstream pop culture as a signifier for what binds a generation's imaginations to each other. No film derived directly from a game has done this, nor could it. Other movies — even "Prince of Persia," which I liked — remain more concerned with visual nods that wink back at their provenance. Under Wright's imaginative execution, "Scott Pilgrim" channels a bit of what it feels like to play a video game. Falling in love mirrors the wonder of exploration in a virtual environment. Finding out what makes that girl or guy laugh is kind of like scoring some treasure in "Tomb Raider." Anyone who's pined for another knows that you can like someone intensely in ways that don't make sense, until you spend time with that person to figure out what energy there actually is between you. And in games, the experience of play clarifies the systems that govern the initial illogic of a game's systems. What "Scott Pilgrim" does is create spot-on metaphors pulled out of video game vocabularies and the result is a big +2 smarts, +4 fun and +7 geek cred for filmmaker, comics artist and audience.