Dustin Hoffman May Attempt a Reverse Anchorman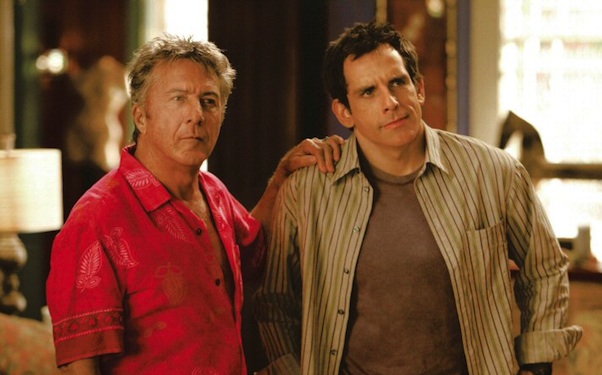 Posted by Matt Singer on
This week's Inventory list on The A.V. Club is about famous actors being cut out of movies, like Adam McKay removing an entire subplot from "Anchorman: The Legend of Ron Burgundy" and completely excising Kevin Corrigan, Maya Rudolph and others from the film in the process (He cut out so much, in fact, that he was able to turn the deleted scenes into a straight-to-video bonus feature, "Wake Up, Ron Burgundy").
An article on Vulture suggests opportunities for a companion piece in the near future. In short, the "Meet the Parents" sequel "Little Fockers" is so troubled that "Dustin Hoffman might consider a last-minute reprise of his role as Bernie Focker in an effort to funny-up the comedy, which has already wrapped production." In other words, if Hoffman signs on to join the film, he'd be doing what we're going to dub "The Reverse 'Anchorman'": instead of chopping entire characters out in the editing room, "Little Fockers" director Paul Weitz would potentially be adding an entire character in.
The Reverse Anchorman is a very rare and exotic occurrence; sort of the cinematic equivalent of a double rainbow. The best and most successful example is Raymond Burr inserted into the completed Japanese film "Gojira" to make it more appealing to American audiences as "Godzilla." Columbia Pictures wasn't happy with the vocal half of Doug Jones' performance as Abe Sapien in Guillermo Del Toro's "Hellboy," so they brought in David Hyde Pierce to redub his lines.
A debate continues to this day over whether a similar decision was made regarding James Earl Jones' dubbing work as Darth Vader in "Star Wars": the actor inside the Vader suit, David Prowse, continues to insist in interviews that they choice to sub out his voice was made at the last minute while George Lucas maintains that he'd planned to find a more suitably menacing actor for Vader's audio all along.
"Jewfro Tull," one of the commenters on The A.V. Club's list, left a comment suggesting some good examples we'd forgotten: "Best Defense" starring Dudley Moore and "Strategic Guest Star" Eddie Murphy, who was paid a ton of movie to join the film after some disastrous early test screenings; and James Belushi, brought in to replace another actor in the role of the salesmen in "Little Shop of Horrors" after test audiences rejected the film's original ending.
After that, we're coming up dry. Who else are we forgetting that pulled a Reverse Anchorman?