"Red Riding" Comes Home, Michael Caine Loads His Shotgun, and More New DVDs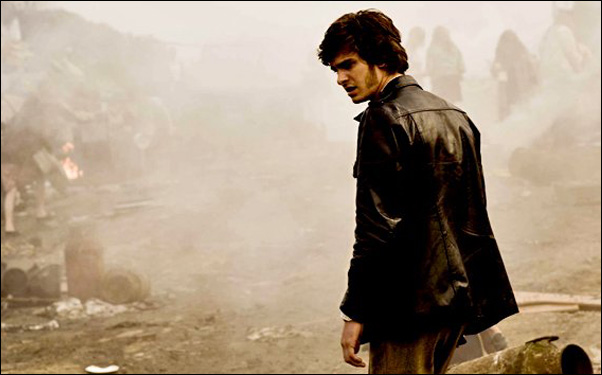 Posted by Stephen Saito on
A look at what's new on DVD today:
"Red Riding Trilogy" (2010)
Directed by Julian Jarrold, James Marsh, and Anand Tucker
Released by IFC Films
Jarrold ("Brideshead Revisited"), Marsh ("Man on Wire") and Tucker ("Shopgirl") take on the epic true crime story of the Yorkshire Ripper, the serial killer that haunted England throughout the '70s and '80s in this three-part series of films: Jarrold's "1974," which stars future Spider-Man Andrew Garfield as a journalist investigating the crime, Marsh's "1980," which follows Paddy Considine's veteran cop who suspects corruption within his own department, and Tucker's "1983," which tracks David Morrissey's detective as he makes the connection between a current kidnapping and those of years ago. (Aaron Hillis' interview with James Marsh is here.)
"Beatdown" (2010)
Directed by Mike Gunther
Released by Lionsgate
Don't you hate it when your brother's murdered, leaving you to make up his debt to a local gangster by fighting in an underground MMA cage fighting circuit? Well, that's exactly what happens to "Apocalypto" star Rudy Youngblood in this drama that co-stars Danny Trejo and Eric Balfour.
"Clear Lake, WI" (2009)
Directed by Brian Ide
Released by Osiris Entertainment
Michael Madsen plays a shadowy character known simply as The Reverend whose sermons inspired a group of teens to kidnap townsfolk he thought were infected with a deadly disease and this thriller follows the surviving disciples, now in their 20s, as they return to the town and come to terms with what they've done.
"Echoes of the Rainbow" (2009)
Directed by Alex Law
Released by Tai Seng
Alex Law's '60s coming-of-age story picked up a Crystal Bear from the children at this year's Berlinale for this genteel depiction of an eight-year-old son of a shoemaker named Big Ears who competes for the attention of his parents with his model older brother and is called upon to help after the devastation of a typhoon that wipes out his parents' shop.
"The Final Girl" (2008)
Directed by Todd Verow
Released by Breaking Glass Pictures
Three French women go in search of a fourth in this mystery from Todd Verow that was a staple of the LGBT circuit in the past two years.
"Four in the Morning" (1965)
Directed by Anthony Simmons
Released by VCI Entertainment
Judi Dench won a BAFTA for Most Promising Newcomer to Leading Film Roles back in the '60s for what was just her third film in Simmons' drama about two couples brought together by a drowning at a nearby lake.
"French Film" (2008)
Directed by Jackie Oudney
Released by IFC Films
Hugh Bonneville plays a British writer whose relationship goes sour on the eve of interviewing a French director known for his expertise on matters of the heart (soccer star Eric Cantona) in this comedy that explores cultural differences when it comes to romance.
"Harry Brown" (2010)
Directed by Daniel Barber
Released by Sony Pictures Home Entertainment
Michael Caine goes all "Gran Torino" in a thriller about an ex-marine who avenges his friend's death at the hands of a local gang. Emily Mortimer co-stars in Barber's feature debut. (Bilge Ebiri's review is here.)
"Heavy Mental" (2009)
Directed by Mike Hartman
Released by Troma
A wannabe rocker gets what he thinks is the gift of a lifetime when he obtains the guitar of legendary heavy metal god Eddie Lee Stryker, but soon discovers his new axe is possessed by his spirit that wants revenge on the gang that killed him. Look out for Troma chief Lloyd Kaufman in a cameo.
"Made for Each Other" (2010)
Directed by Daryl Goldberg
Released by IFC Films
Christopher Masterson stars with brother Danny's wife Bijou Phillips in this comedy about a newly married man whose wife's vaginal piercing makes it impossible for him to enjoy a proper honeymoon, leaving him in an awkward position when he sleeps with her sister and attempts to relieve his conscience by setting up the new missus with another man. Lauren German, George Segal and Patrick Warburton co-star.
"OSS 117: Lost in Rio" (2010)
Directed by Michel Hazanavicius
Released by Music Box Films
For fans of the swinging super spy Hubert Bonisseur de la Bath (a.k.a. OSS 117), Music Box Films is bringing the second adventure in the French spoof series Stateside, picking up a dozen years after the events of "OSS 117: Cairo, Nest of Spies." This time around, the top secret agent (Jean Dujardin) is teamed with busty Mossad agent Dolores Kuleshov (Louise Monot) to help retrieve a compromising microfilm of French Nazi sympathizers from the clutches of a Third Reich blackmailer.
"A Quiet Little Marriage" (2008)
Directed by Mo Perkins
Released by IFC Films
Winner of the Audience Award at the Austin Film Festival in 2008 and the Grand Jury Prize at Slamdance in 2009, Perkins' drama centers around a young married couple (Mary Elizabeth Ellis and Cy Carter) who resort to deceiving each other when they come to a crossroads on whether to have a child. Melanie Lynskey, Charlie Day and Jimmi Simpson co-star.
"Tormented" (2009)
Directed by Jon Wright
Released by IFC Films
Tipped to be a star in America once "Beastly" and the sci-fier "I Am Number Four" come out next year, you can get your first glimpse of Alex Pettyfer in this horror comedy about a dead teen who rises from the grave to get comeuppance on his classmates.
"Tyler Perry's Why Did I Get Married Too?" (2010)
Directed by Tyler Perry
Released by Lionsgate
More analysis and hysterics follow the four couples of Perry's 2007 romantic comedy to the Bahamas. Jill Scott, Janet Jackson, Sharon Leal and Tasha Smith star.
"The Waiting Room" (2007)
Directed by Roger Goldby
Released by IFC Films
Also appearing in "French Film," it's a big week for fans of James McAvoy's better half Anne-Marie Duff, who stars in this slightly more serious romantic comedy about two strangers whose chance encounter at a train station causes them to reflect on their past relationships and wonder whether they'd be better in each other's arms than the significant others they're currently with.
[Additional photos: "French Film," IFC Films, 2008; "OSS 117: Lost in Rio," Music Box Films, 2010]