Pulp Fiction: The Movie, The Soundtrack, The Awesome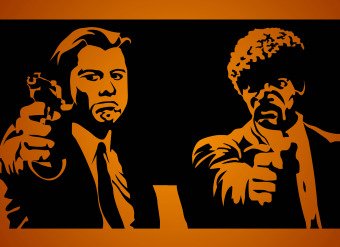 Posted by Melissa Locker on
When Quentin Tarantino's 'Pulp Fiction' hit theaters, audiences were stunned by the graphic violence, wild inter-twined plot lines, brash use of language, and fever pitch pace. The movie was widely considered one of the most influential movies of the 90s. And we have 'Pulp Fiction' to thank for re-launching the career of John Travolta. Yes, we couldn't have had 'Old Dogs' or 'Wild Hogs' without it.
Not only did the movie raise the bar for Hollywood films, but the soundtrack dramatically changed how most movie producers thought about the music that accompanied their films. Instead of just being a beautiful song, background noise, or a thrilling a score to accompany the chase scenes, songs became part and parcel of the movie. They started to be carefully selected to mirror the story playing out on the screen. A soundtrack could also be used to communicate a filmmaker's vision to a particular segment of the audience and maybe make them seem hipper than they actually are. (Yeah, 'Twilight' soundtrack, we're looking at you.) The combination of surf rock, old school R & B and soul, and newer bands like Urge Overkill side-by-side on the 'Pulp Fiction' soundtrack made the album quickly become THE soundtrack of 1994. And, you know what? It still sounds good.
Here's a clip from 'Pulp Fiction' of Uma Thurman and John Travolta dancing to Chuck Berry's 'You Never Can Tell':
What's your favorite song from the 'Pulp Fiction' soundtrack? Tell us in the comments!
Quentin Tarantino's Pulp Fiction airs tonight at 7:15 p.m. ET.