Old School Punk Rocker Reveals Lost '80s Western Featuring Kevin Costner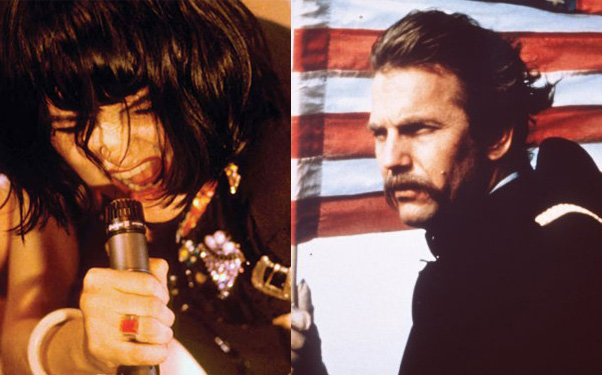 Posted by Brandon Kim on
A truly strange cow punk flick, "Bad Day" just surfaced 24 years after it was shot by Modi Frank and Exene Cervenka of the L.A. punk band, X. It features legends like X bassist and frontman John Doe, The Flesh Eaters singer Chris D, and Grammy winner Dave Alvin, who also scored the film — which is silent. Also featured, and this is probably the best part, are Michael Blake and Kevin Costner.
Blake would go on to win an Oscar for writing "Dances with Wolves" in 1990, which Costner directed and starred in, and also took home two Oscars for Best Director and Best Picture. But when "Bad Day" was shot in 1986, Costner was a punk who'd had his scenes deleted from "The Big Chill" and had only just appeared in Lawrence Kasdan's "Silverado." No small feat really, his role as Jake was memorable and a hero to every red-blooded American boy who ever fancied a six-shooter. From what I've seen, it looks like Costner was playing a hilarious, drunk version of Jake in "Bad Day."
Some proceeds from the film are going to a Louisiana charity that helps victims of the BP oil catastrophe in the Gulf. "I have friends in New Orleans, and they're directly affected by the disaster because they're breathing in this toxic air every day and their businesses are suffering," Cervenka told Us Magazine. "They have to live knowing that their way of life has been compromised maybe… well, for years…" [Contact Music].
In related news, Costner is all over oil spill relief efforts too. If you've not been following his 15 year-old Ocean Therapy project, founded with his scientist brother, the short version is they invented a device that takes pollutants out of water using centrifugal force. After some initial delays, BP has actually deployed the Costner machines to help clean up their mess. Watch him, in a cozy nautical sweater, tell Anderson Cooper about it here.
Go to baddaymovie.com and pay what you want to see it.